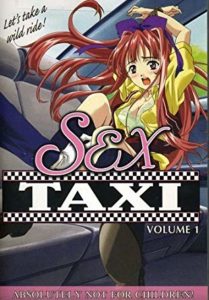 ---
A cabbie got his kicks by blackmailing, raping, and storing women in his "collection" back in his old town. Now he is in a new town with new women. He wants to have sex with them. He picks each girl up many times and follows them around. They do not seem to notice that it's the same cabbie until it's too late; until he gets all his sources and starts to blackmail them. In his new town, his first fare was Satsuki, a member of the archery club. He goes on from there to get twins, a swimmer, a cheerleader, and more.
|
Cheating Notes
There's a cheating/blackmailed girlfriend in Episode 5. The taxi driver has a passenger couple who has sex in the back seat of his taxi while he's driving. He secretly takes photos of them.
After the male gets off the cab, the female calls somebody on her cell phone. The driver hears her conversation and finds out that she is going to meet and fuck a banker so that she can be approved for a 20 million yen loan. He records her conversation and along with the photos he had taken earlier, he uses it to blackmail her for sex.
The taxi driver brings the girlfriend to an abandoned school where he fucks her. She resists at first, then she gets to like the fucking. When he asks her if he makes her feel better than her boyfriend while he is fucking her doggy style, she says yes while moaning hard.
More Info for Sex Taxi
Info: Myanimelist.net
Watch Sex Taxi Episode 5 Online: Xanimeporn.com
---
---
---