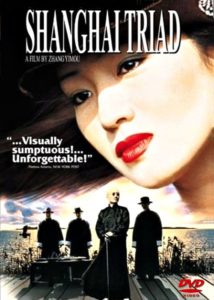 ---
Uncle Liu brings his cousin to Shanghai to work for 'Boss,' the leader of a powerful drug empire in the 1930's. Shuisheng, a simple country boy is awed and overwhelmed by the opulence and immense wealth he is suddenly surrounded by. He is to be the attendant of Xiao Jingbao, the new mistress of 'Boss.' While he fumbles with the demands of his new role, much intrigue is going on around him, well beyond his bewildered perception. Xiao Jingbao is having a tumultuous affair, Fat Yu is starting a gang war, and 'Boss' is beginning to suspect that one of his trusted men is not loyal.
|
Cheating Notes
Gong Li is the triad boss' mistress but she is having an affair with the boss' right-hand man, Song. One night, she silently unlocks the doors and the gate to her affluent home (provided by the boss, of course) so that Song can enter without being noticed by her servants. Song, carrying his shoes so he won't make a noise, enters her home and her bedroom. They share a laugh. He kisses her on the neck. She lies down on the bed followed by him and they probably have sex after that, but it is not shown.
You come to Shanghai Triad for a good movie, and not for it's erotic value.
---
---
---