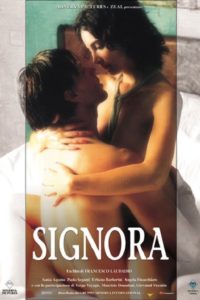 ---
Rome, 1933. Sarah (Sonia Aquino), an American aristocrat married to a wealthy businessman, falls in love with Guido (Paolo Seganti), a young engineer. The two begin an overwhelming relationship, so much so that she declares herself willing to leave her husband. But suddenly he disappears without leaving a trace. She then hires an investigator to find out if he is cheating on her with another woman.
Cheating Notes
The wife, along with an older female companion (maybe her mom), is driving in the middle of some crop fields when her car breaks down. The engineer comes along and helps her fix her car.
The two meet again in an outreach program for the poor. The wife gives the engineer back the handkerchief that he left when he helped her with her car earlier.
The engineer visits the wife at her place. They go boating and climbing. While on the hill, he kisses her. She doesn't kiss him back but is very gentle in pulling away from him, indicating that she may like the guy but isn't ready to cheat on her husband yet.
The engineer visits the wife again. She takes him to a bar, they drink, and she invites him to dance. He takes her home and dives into her pool naked. They gaze at each other's eyes while he is in the pool and she is sitting on its edge. He comes out of the pool and they kiss. He takes her clothes off, they make out while standing naked and then have sex in the pool.
The wife visits the engineer at his office. As soon as he opens the door, he immediately grabs and pulls her inside and kisses her. They talk and while she's still talking, he suddenly kisses her again. They have sex in the next scene.
The engineer comes home one day and finds the wife waiting for him inside. They have a dramatic talk. It could be about them falling in love and the impossibility of taking it any further. She's dressed nice and ready for sex when she came, but the mood is spoiled by their talk and she leaves mad.
The wife gets depressed. Her husband brings some food to her room so that she can eat something, not knowing that the cause of her grief is her lover.
The engineer leaves abruptly, which causes the wife to get depressed more. After some time has passed, she sees him walking on the street with a woman alongside him. She hires some private dicks to find out if he has taken another woman. Because of the private dicks, the engineer gets caught and jailed because of espionage (I'm just guessing). He gets mad at her when she visits him in jail upon finding out that she's the one who hired the private dicks.
At the end of the movie, the wife lets herself get jailed and exiled to the same place where the engineer is so that they can be together. Her husband even sends her off when she boards the ship. I'm not sure if he already knows about her lover and they have parted already at this point.
Summary
The wife is very attractive and has a rocking body (breasts). Her affair with her lover is a nice, straight-up romantic one which has a couple of ample scenes for proper development. Their sex scenes are good.
More Info for Signora (2004)
Torrent (poorly seeded) | Stream at vk.com (requires registration)
---
---
---