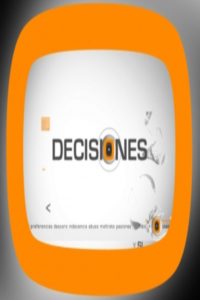 ---
Decisiones is a Telemundo-produced Spanish-language television anthology of steamy melodramas about passion and sex in the modern world. The 30-minute-long series features impassioned people thrust into amorous adventures and pushed to their breaking points. Unlike much Spanish-language dramatic fare, each show contains a complete story.
|
Cheating Notes
This page will be updated as more episodes are added.
Decisiones doesn't have nudity (only sexy scenes) based on the episodes I've already seen. On the other hand, Infieles series does. Also, I think Decisiones Extremas has nudity too but I have yet to watch an episode from it.
Episodes List
Una Mujer Perfecta - Guy proposes to his girlfriend. She says yes, but is cheating on him with several men, including an old boyfriend, her boss, and his close friend. She cheats before and after his proposal. - added 1/1/2020
Pasion Ciega - Husband wants supposedly blind wife killed but the assassin has a change of heart? Wife and assassin's first kiss at 26:36. Petting and after-sex scene at 28:07. - added 1/1/2020
A esto Llamas Amor - A married voluptuous teacher invites a young couple in her class to her home and seduces the boy by changing into skimpy clothing. On the couple's second visit, she dances lewdly with the boy. She fucks him on the couch (we only see the early stage) while she tells the girl to go walk the dog. It's basically Nicole Kidman's To Die For (1995) with some differences. Watch on Youtube. - added 11/11/2019
A Trepar como Sea - Wife takes on an old rich lover for the love of jewelry and money. We see her date the old guy a few times but he only gets to as far as kissing her lightly on the cheek and on her shoulders. Watch on Youtube.
Added 9/12/2009
Busco Sirvienta added 9/12/2009 - A wife runs away from her husband, takes a job as a housekeeper and starts an affair with her young master. Read review.
Gata en celo - Wife meets her attractive neighbor while her husband is on a business trip. Read review.
---
---
---