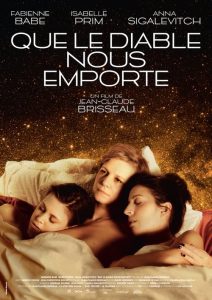 ---
A woman discovers curious erotic messages and videos on a lost cell phone on the train. When she meets the owner of the phone, a liberated young woman, the two of them embark on an erotic journey.
|
Cheating Notes
Camille finds Suzy's phone on the train and the latter comes to the place she's staying at to get it back. Camille asks her about the naked videos she has on her phone. In at least one of them, a man whose face is not seen is groping her breast from behind. Suzy tells her that the videos, or one of them, the main one, is for her 58-year-old fiance whom she sees every couple of months. And the others are for her lovers, which number from 25 to 30, and age between 40 and 62 years old.
Camille and Suzy's interaction lead to lesbian sex (12:45). Carla, owner of the place and savior of Camille when she found her half-dead in a restaurant's loo and took her in, arrives and joins them for a threesome.
At 58:41, Clara and Suzy do it while Camille films them. The latter joins in eventually.


Lookmovie2.to
---
---
---