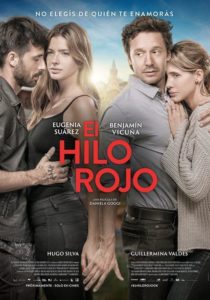 ---
Seven years after their first infatuated encounter, Abril and Manuel meet again. Despite the fact that they are both married, it is soon apparent that their attraction has only grown so they start an affair.
|
Cheating Notes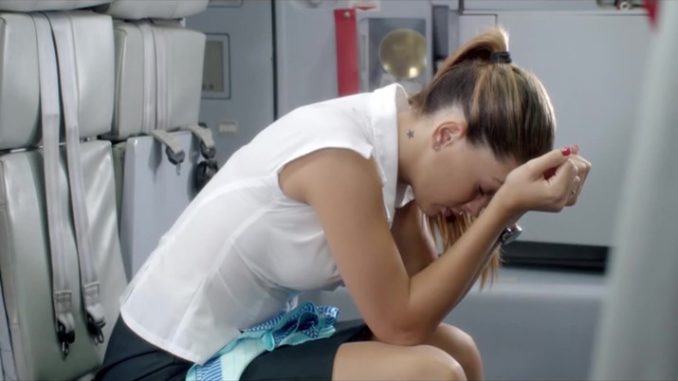 Summary and Recommendation
This movie works well for me because the cheating wife (María Eugenia Suárez) is just so fucking exceptionally hot. She's so hot that her role is very appropriate for her level of beauty: as a flight stewardess and as a wife of a rock star. I mean, if we stick to cliches that rock stars pick exceptionally hot women as their wives and girlfriends, then María Eugenia Suárez will pass their requirement easily and would certainly be among their choices.
Cheating scenes in El Hilo Rojo
Manuel, a businessman, meets Abril (María Eugenia Suárez), a hot stewardess, on a flight. They hit it off and make out in the airplane. The slightly dorky Manuel gets a little taste of the luscious lips of the hot stewardess Abril (lucky bastard). They plan to date when their plane lands but due to some problems with customs, they are not able to meet again until seven years later.
Fast forward to seven years, Manuel is now married and has a daughter while Abril is cohabitating with a rock star and has a son. One day, they meet again in a hotel, with Manuel on a business trip while Abril on one of her flights as a stewardess. They talk, dance and awaken their feelings for each other while attending the party of Abril's flight captain during the night. They go to an isolated section of the party where Manuel makes the first move and kisses Abril. She kisses back, but only momentarily, and walks away from Manuel.
The next day, they meet in the hotel lobby. Manuel offers to guide Abril in touring the city. Abril plays hard to get and gives Manuel some shit tests, like telling him that she isn't inviting him to go with her. But ultimately, she can't deny her feelings for him so she goes with him to tour the city even though she seems to be cockblocking him. I really like her playing hard to get and cockblocking Manuel because it adds to her value. I mean, most guys would get intimated if faced with a woman who is exceptionally hot and feisty at the same time. If you get past that, then you're a real man and deserve a prime meat like Abril.
At the end of their tour, it's Abril who initiates the kiss this time, not able to control her feelings towards Manuel. The rain starts pouring while they're making out. They run for cover in a passageway that goes through a wall. Here, they have sex while standing up and soaking wet. Manuel lifts Abril's leg up, pulls down his pants and fucks her against a wall.
After that, they go to Manuel's hotel room where they have sex again in the bed. This time their lovemaking is more proper, slower and sexier than when they were standing up.
After that, drama ensues when Abril hears Manuel's wife and daughter calling him on the phone. She decides not to meet him again. When he messages her and requests to meet her later, she refuses.
A couple of months later, the two meet again because Manuel's wife happens to be doing a photoshoot for Abril's rock star husband. The two husbands are introduced to each other. There's a quite erotic part where Abril's husband is asking Manuel what he does for a living. When Manuel replies that he has a winery, Abril's husband tells him that they have something in common. Abril seems to react to that, although silently, because in her mind, Manuel and her husband do something have in common: the pleasure of fucking her.
While the others are busy in the photoshoot, Manuel and Abril get alone by themselves and talk. Abril still doesn't want for their affair to continue. Manuel sneakily runs his hand sensually on Abril's back, then he asks her that they should leave the photoshoot and fuck somewhere. I guess Abril gets turned on by his touch so they leave the place separately then go to Manuel's house to fuck.
Later, Abril admits to her husband that she fucked Manuel. He allows her to leave to go to Manuel. She agrees to meet Manuel but at the last minute, she changes her mind and turns around, seemingly choosing her husband and her daughter over Manuel.
More info for El Hilo Rojo
Info + Torrent Download Link: Torrentz2.eu
---
---
---