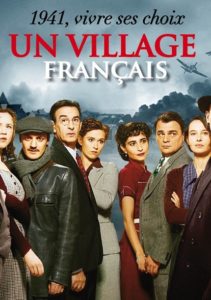 ---
A French village and its inhabitants go through the ups and (mainly) downs of the occupation by the German army from 1940 to 1945. The village doctor is assigned as mayor, and confronted with the challenges, dilemmas and contradictory demands and situations. At the same time, there is a lot of personal interaction with a number of interesting characters.
More Info: IMDB
|
Cheating Notes
Some quotes from IMDB reviews:
"...Much of the focus is on sex and marital infidelity, rather than issues specific to the Occupation. (It reminds me a lot of Zola's Germninal in that sense.) This holds audiences, certainly, but there is nothing particularly related to the Occupation here. Almost all the wives turn out to be unfaithful to their husbands. I'm not sure how a feminist would react to that, or indeed many French women, faithful to their husbands or boyfriends, who lived through the era."
"... and Marie (Nade Dieu), a farmer's wife, who is involved with the married owner of a sawmill, Raymond Schwartz (Thierry Godard)..."
"... there is Schwartz's wife, Jeannine (Emmanuelle Bach) who is determined to survive and prosper, no matter who rules the country..."
Some sex scenes
Other Nude/Sex Scenes:
Nade Dieu nude - Un Village Francais s01e04
Audrey Fleurot nude - Un Village Francais s01e04
Emmanuelle Bach nude - Un Village Francais s07e06
More info for Un village français
Watch Un village français Online: Dailymotion.com
---
---
---