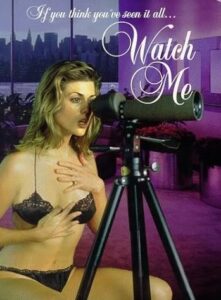 ---
A struggling photographer makes an amazing discovery when a new tenant in his building starts to behave strangely. Paul the landlord and photographer lives with his girlfriend Samantha. A new tenant hopeful named Elise shows up and Paul is somewhat attracted to her from the start. As time wears on Elise starts watching and seeing things with her telescope from her window. Little does she know that while she is a peeping tom someone else is watching her... Watching her every move.
|
Rate this movie
[Total:

0

Average:

0

]
Cheating Notes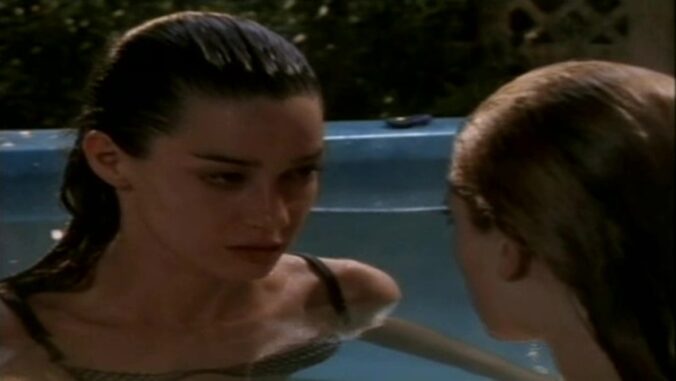 Samantha (Jennifer Burton) is the girlfriend of Paul, landlord and photographer. At the beginning of the film, we see her try to seduce and have sex with him but he is too busy and is actually about to leave for work. That tells us that she's sex-deprived.
Fast forward to several scenes, Elise comes in as Paul's new tenant. He watches her from his window as she, in turn, watches a couple having sex using her telescope and masturbating to it. What he doesn't know is that the couple that Elise is watching are Samantha and Alex, his pal and the handyman he employs to fix stuff in his building. Samantha and Alex's flirtation start at 15:26, in a scene involving a spinning egg.
One time, Paul tries to have sex with Samantha but she refuses because she has some bruises on her chest which is a result of her kinky sex with Alex.
After they just have sex on the couch, Samantha smells perfume on Paul's hand and she begins an argument with him about it, which is ironic because she's the one who's cheating on him and the perfume she smelled is actually hers.
After an emotional argument with Paul about their relationship, Samantha makes out and pets heavily with Elise in a hot tub. But after some time, Elise pulls away so it doesn't materialize into full-on sex. Frustrated, Samantha comes to Alex's place to get fucked by him instead. They start making love. Meanwhile, Paul begins to suspect Samantha's infidelity when he inspects some of her clothes. He enters Elise's place, uses her telescope, and sees Samantha and Alex doing it, kinkily at that, with her being blindfolded and stuff. They are really about to fuck but Samantha gets mad when Alex tells her that their neighbor is watching (he thought it's Elise but it's actually Paul who's watching at that moment) and so she leaves.
Paul confronts Elise about why she didn't tell him about Samantha and Alex. This leads to them fucking. He confronts Alex next and fires him. Then, he confronts Samantha, initiates kinky sex with her because maybe that's what she wants. But she starts crying, telling him that she just wants him so badly or something. He breaks up with her and hooks up with Elise in the end.
Summary
Quite hot.
Watch Full Movie Online
via Xvideos (Spanish voice-over)
via Archive.org (English audio, but slow stream)
---
---
---