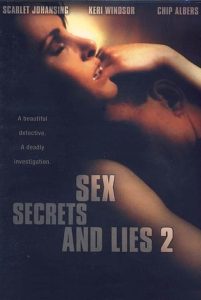 ---
When sexy female private eye Sam Sharp (Monique Parent) is hired to find the missing sexy young wife of a magazine publisher, it seems like a routine case. But she's soon out of her league -- and when a corpse turns up at the bottom of a pool, Sam uses herself as bait in a seductive attempt to expose the killer.
|
Cheating Notes
A film noir done softcore style... or is it a softcore film done film noir style?
(Spoilers)
At the beginning of the film, we see the magazine publisher's wife having a threesome with a guy and another woman, but we don't know at this point that she is the publisher's wife or who the other two participants are. We will know about it as the movie goes along. At 41:20, private eye Sam Sharp (Monique Parent) watches a video of the said threesome and masturbates to it.
Watch Full Movie Online
---
---
---