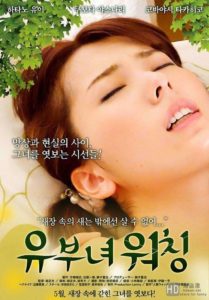 ---
Yoko is a housewife who lives a mundane life in a housing complex. Her relationship with her husband is already cold and there is little conversation between them at the dining table. After doing her daily household chores, Yoko masturbates to her fantasies of men raping her after they watch her through the window. One day, after masturbating and having that kind of fantasy, she gets up, looks out her window, and sees a man watching her through a pair of binoculars. Was he watching her all the time? Yoko gets out and searches for the man...
More Info: TMDB
|
Cheating Notes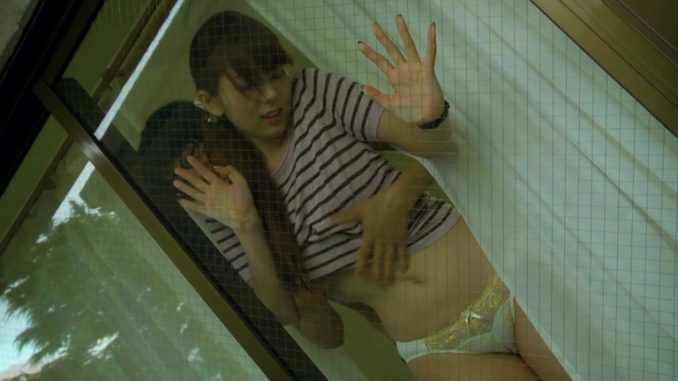 Yoko's daily routine is fantasizing and pleasuring herself after her husband leaves for work and all her household chores are done. Her usual fantasy is that of a man watching her through the window and then attacking and raping her.
One day, she fantasizes about a young guy who watches her with a pair of binoculars from afar and then who gets in inside her house and rapes her. When she wakes up, she looks out from her window and sees a guy who looks like the guy from her fantasy and who seems to be also watching her with a pair of binoculars.
Bringing her own pair of binoculars with her, Yoko gets out and searches the nearby surrounding for the guy. The guy approaches her and introduces himself as a bird watcher. They hang out together and he introduces her to bird watching. She seems to like the activity so he invites her to meet the other members of his bird-watching club and maybe join them officially.
The next day, while preparing to go out, Yoko tries to remove her wedding ring from her finger but it won't come off. She then meets the other members of the bird-watchers club: three old men who all look so pleased having a hot, sexy wife join them. They excitedly show her their gears. Yoko is also happy, as this is a break from her boring daily routine. They hike to look for birds and at one point, Yoko just involuntarily starts fantasizing that the young guy makes a move towards her and kisses her. She comes to her senses and realizes that it isn't real.
When she gets home, Yoko removes a photo of her and her husband from a picture frame and replaces it with a photo of her and the bird-watching club members.
The next day, Yoko gets wounded on her foot while she and the other bird-watchers are hiking on a hill. The young guy gives her first-aid inside their van. Then, he makes a move and kisses her. She responds positively and they make out. She throws her wedding ring, which now comes off with the help of the young guy, out of the van and has sex with him.
While having breakfast with her husband the next day, Yoko keeps looking at her watch, seemingly excited to start the day with her bird-watching lover. After her husband leaves, the young guy comes inside her house and tells her to strip naked while he watches her from his binoculars. She obliges, then they have sex on her bed.
After they have sex, Yoko releases the caged bird in her room, maybe as a symbol of her own freedom from a loveless marriage. Suddenly, her lover starts speaking weirdly to her. He then presses her against the window, lifts her shirt, grabs her breasts and starts fucking her from behind. While pressed against the window, Yoko is aghast to see the other three bird-watching club members watch them from afar with their binoculars.
The three old men, while chanting something,  get inside her house, into her bedroom and watch her get fucked by the young guy. They also film the two. Our hot wife looks horrified and confused, like she can't believe that this seemingly innocent group of bird-watching fellows is capable of doing such a horrible thing.
Was it all just a fantasy?
(Spoiler) Yoko wakes up to the sound of running water from the faucet with her hand still on her pussy. She gets up and looks at the caged bird that she supposedly released earlier and it is still there. Then, she looks out the window and no one is there watching her, not some creepy young guy nor some perverted old men. She takes out the framed photo that she supposedly replaced earlier and sees that it's still the photo of her and her husband.
Finally, she looks at her finger and her wedding ring is still there. She tries to take it off and it still won't come off, maybe symbolizing that she didn't really get the freedom that she wanted like she dreamt she did. She looks at the caged bird again and realizes that she shares the same fate with it.
It seems that it's all just a fantasy of Yoko. But even if it is, I would like to thank you, Yui Hatano, for taking us along in your hot fantasy. For taking us along for the proverbial wild ride.
Summary
I like the shot where Yui Hatano is pressed against the window. She really looks good in that, with her boobs pressed against the glass. Then, I like the next scene where she looks horrified and confused upon knowing that the three old men are watching her from afar, and then seeing them enter her room and watch her get fucked up close and she can't do anything to stop it and the young guy just keeps on fucking her.

More Info for Wife Watching (2014)
Watch Full Movie Online: Fullasianmovies.com
---
---
---