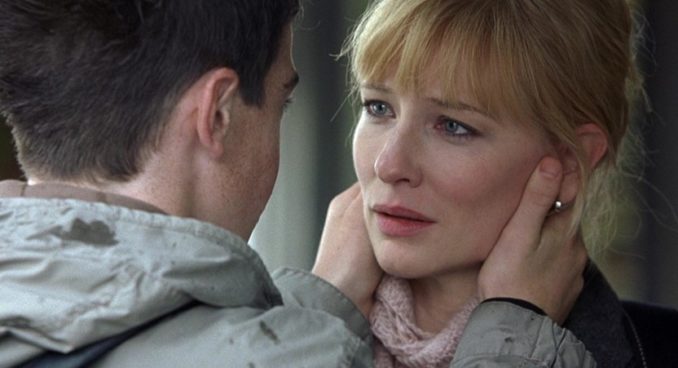 Description
A veteran high school teacher befriends a younger art teacher, who is having an affair with one of her 15-year-old students. However, her intentions with this new "friend" also go well beyond platonic friendship.
Details for the movie Notes on a Scandal (2006)
Director: Richard Eyre
Starring: Cate Blanchett, Judi Dench, Andrew Simpson
Country: UK
Cheating Scenes in Notes on a Scandal (2006)
Sheba (Cate Blanchett) is a new teacher at a school and has begun an affair with a 15-year-old student named Steven.
Barbara (Judi Dench), an old, lesbian teacher who has befriended her, catches her giving Steven a blowjob one night in one of the school's classroom.
Barbara confronts Sheba about what she saw. Sheba confesses to her and tells her everything.
"Do you suck?"
It all starts when Steven dedicates his goal to Sheba during a soccer game. It amuses her that time, nothing more. But in the next few days, Steven starts coming to see her so she can check his drawings. She sees that she is talented and starts teaching him after class. One time, she rubs his hair a little too affectionately. He looks up at her and tells her to do it again. She tells him not to be silly and to go home. Steven then asks her if she's a good cook. When she replies, "Not really..", he follows it up with the question "You suck?" Of course, on the surface, you might think he's asking if she sucks at cooking. But Sheba gets it, she knows that he's asking if she sucks dick. She tells him again to go home.
Sheba stops teaching Steven after that and tries to avoid him, but he just keeps coming back. One day, he asks her if she wants to go for a walk after waiting for her come out of a store. She refuses while laughing ridiculously. Steven then tells her that he is being beaten by his father (we find out later that this is all bullshit on Steven's part just so she would sympathize with him and lower her guard). Sheba comforts him. He says thanks, then holds her face with his two hands and tells her that she's beautiful. After he leaves, Sheba's face is blushing and you can see that her attraction towards the boy is growing. In her voiceover, she says that she hasn't been pursued like that for years.
Sheba gives in to Steven's persistence
Steven gives Sheba a note, asking her to meet him tonight at 8:00 P.M. Sheba reasons out to herself that she had been a decent wife and a dutiful mother, so she deserves to be bad and transgress since she's earned the right. She tells her husband that night that Barbara wants to meet her for a drink, but in fact it is Steven that she is going to meet.
When Sheba meets Steven at the designated place, she smiles and gets her face really close to his and touches it affectionately. Steve brings her to a train yard. He lays a blanket on the ground. They start kissing and Steve fucks his hot, married teacher on the blanket that he laid out.
After they're done, they talk and Sheba starts to fix herself up. Steven kisses her again, then asks her if she wants to do it again. She laughs, then she says yes, so they fuck again.
After Sheba is done telling Barbara what happened, Barbara tells her to stop her relationship with Steven so that she won't tell anyone.
"Wish I woz fucking u blind rite now"
While Sheba is having a Christmas dinner with her family and relatives, Steven sends her a text that reads: "Happyxmas miss! Wish I woz fucking u blind rite now." When she comes out to throw the garbage, Steven is there waiting for her. She says he shouldn't be there. Sheba's husband comes out looking for her. They are in the corner so they are not seen. Sheba tells Steven that they should end their relationship. But when Steven starts kissing her, she kisses him back. After getting back inside her home, Sheba breaks down and cry because of the mess she's in.
Sheba and Steven's affair continues
Sheba and Steven fuck again in the train yard. Then, Sheba brings him in her own home and fucks him there.
A little later in the movie, Sheba ends her relationship with Steven because of pressure from Barbara. Actually, Steven wants it to end himself because everything is getting serious, while all he really wants is to fuck a hot teacher and add her to his collection.
Final Thoughts
Sure, Cate Blanchett is pretty. But she never really gave me an erection until I saw her as a cheating wife in this movie.
More info for Notes on a Scandal (2006)
IMDb Info: IMDB
Info + Torrent Download Link: Torrentz2.eu