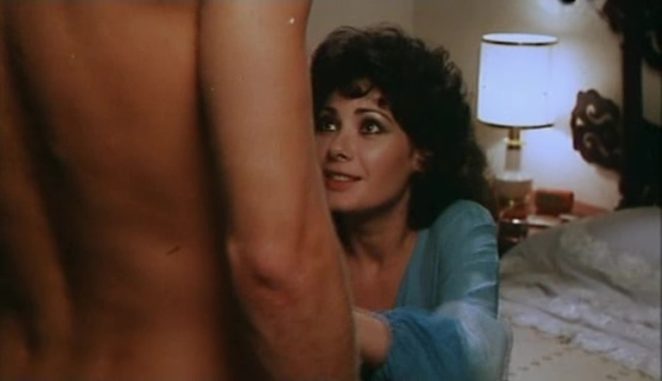 Description
Valentina and Giovannino have just gotten married, but the Honeymoon has gone by and nothing happened between the two. Tension grows and they are about to break up the marriage, until a French tourist satisfies Valentina, while Giovannino regains his virility with his mother in law.
Details for the movie La moglie vergine
Other Titles: La moglie vergine, At Last, At Last
Director: Marino Girolami
Starring: Edwige Fenech, Carroll Baker, Florence Barnes
Genre: Comedy
Country: Italy
Language: Italian /English Subs
Cheating Scenes in La moglie vergine
Giovannino and his wife Valentina (Edwige Fenech) is returning from their honeymoon. Valentina is frustrated because Giovannino has erectile dysfunction and therefore, isn't able to fuck her in their honeymoon. While on the boat home, they get noticed by a group of young French tourists since they are a hot couple. Two girls from the group are talking about how gorgeous Giovannino is and how they like to have sex with him. Valentina, meanwhile, catches Maurice's eye. This is the French guy who will screw her later in the film.
When they get back home, the couple tries having sex a few times but Giovannino always loses his erection while in the middle of it.
Lucia (Carrol Baker), Valentina's mother, asks Federico, Giovannino's uncle, to do something about her son-in-law's erectile dysfunction problem. Federico obliges. He makes his maid seduce Giovannino after dinner. The maid and Giovannino start having sex. Federico intentionally interrupts them so that his nephew will go upstairs and finish his erection off with his wife. Giovannino goes to their bedroom and starts making out with Valentina, but then his erection fizzles out again.
The family lawyer tries to fuck Valentina
While Valentina is minding her mother's shop, their family lawyer comes in. He flirts with Valentina. He tells her that he needs a document from her mom's office.
Valentina goes inside the office to get the documents. The lawyer follows her, then tries to fuck her inside the office. She is objecting heavily, but who knows, she might have given in if her husband did not come in. They come out of the office when they hear Giovannino call Valentina's name.
Later in their bedroom, the couple talks about what the lawyer did, with Valentina sparing some details. They try to have sex again but as usual, Giovannino's erection dies out again.
Uncle Federico ogles Valentina
One morning, Federico sees Valentina doing some calisthenics inside her room, wearing some tight aerobic outfit. He gets aroused. So he watches her while swaying his butt, in sync with Valentina's swaying hip and jiggling butt. Giovannino catches him, but he thinks that he is just exercising and does not realize that his uncle is ogling his wife.
Gianfranco and his wife Brigitte
Gianfranco, another nephew of Federico, arrives with his Geman wife, Brigitte. They lick some fruits sensually in front of Federico, Giovannino, and Valentina. That, aside from Brigitte bragging about her husband's sexual prowess, makes Valentina horny. She and her husband try to have sex again and fail again. So Valentina masturbates instead while listening to the moans of Gianfranco and Brigitte in the next room.
The two couples go to a lake to swim. Brigitte goes nude while the more conservative Valentina wears a two-piece. The two females have a massage session on the yacht, with Brigitte successfully urging Valentina to take her bra off. She massages her naked breasts and tells her how great her skin is. They encounter Maurice's group (the French tourists that were on the same boat with them earlier) somewhere along the lake. They're nudists, apparently.
Uncle Federico nearly fucks Valentina
Brigitte and Gianfranco's bedroom door is open and Valentina sees them having sex. She feels envious and cries on the couch. Uncle Federico sees this and consoles her. He sits with her, then starts gently running his hand on her leg (over the robe she's wearing) and her exposed neck and upper chest area while talking to her. He then moves her robe up, exposing her nice leg, and runs his hand on it while assuring her how hot she is when she is doubting her attractiveness and blaming it as the cause of her husband's erection problem. This is a very sexy scene for me as Valentina is allowing her lecherous uncle-in-law to touch her in an inappropriate way while in a distressed emotional state.
Valentina starts touching Uncle Federico back, running her hand on his arm. She also starts complimenting him, telling him how strong his arm is, and how it is made of iron while gently poking it a few times (a sexual gesture?). They are really very touchy with each other at this point. And it even looks like Uncle Federico is also able to run his hand on Valentina's breast, which she does not object to. The shot is a bit high on the chest area though, so we only see his hand come up from her non-visible breast area to her neck.
Uncle Federico asks Valentina if she wants to play Red Riding Hood. She asks him back if he'll be the Big Bad Wolf. He interprets this as a sign to charge, so he does. He lunges forward and kisses her on the neck. He also starts groping her breasts then parts her robe to expose them. Unfortunately, Valentina changes her mind and runs away from him. Aaargh, damn it, Valentina! Don't encourage your in-law when you are not fully prepared to have full-on sex with him.
The family lawyer tries to fuck Valentina again
While Valentina is walking in town, their family lawyer approaches her. At first, she's not receptive to him, reminding him of what he tried to do to her in her mom's shop earlier. But, after some talking, he convinces her to get into his car and come with him to a hill with a nice view. Here, the lawyer tries to fuck her again inside the car. He is able to lift her skirt and caress her naked leg a bit, but he does not succeed in fucking her.
Uncle Federico massages Gianfranco's wife
Gabrielle, Gianfranco's wife, comes out of the bathroom and sees Uncle Federico outside the door (I think he was trying to peek). He offers to give her a massage. She accepts his offer, so they go to her room and starts their massage session. She is lying on her back and her towel is resting on her tummy and crotch area, so her breasts and her legs are all exposed to Uncle Federico. Uncle Federico starts massaging her while they talk. Later, she removes her towel and tells him to move his hands a little higher, up to her breasts. Uncle Federico can't control himself anymore so he mounts her with the intention of fucking her. She tells him, "This is no longer a massage, uncle. You're trying to fuck me!" Then she laughs mischievously.
I'm not sure if Uncle Federico is able to really fuck her because they have to come downstairs when they hear some loud banging (caused by Gianfranco fucking the maid in the pantry).
Valentina gets fucked by the French guy Maurice
After a heated talk at the dinner table with her husband and the whole family, Valentina runs away. Her husband Giovannino and her mother Lucia go after her. It is raining hard. Maurice sees Valentina crying on the side of the road so he offers to take her to his camp. Valentina comes with him and they fuck inside his tent. Her husband and her mother, meanwhile, also fuck on an abandoned cottage.
Final Thoughts
Edwige Fenech is hot, hot, hot.
More info for La moglie vergine
IMDb Info: IMDB
Info +Download Link: Rarelust.com