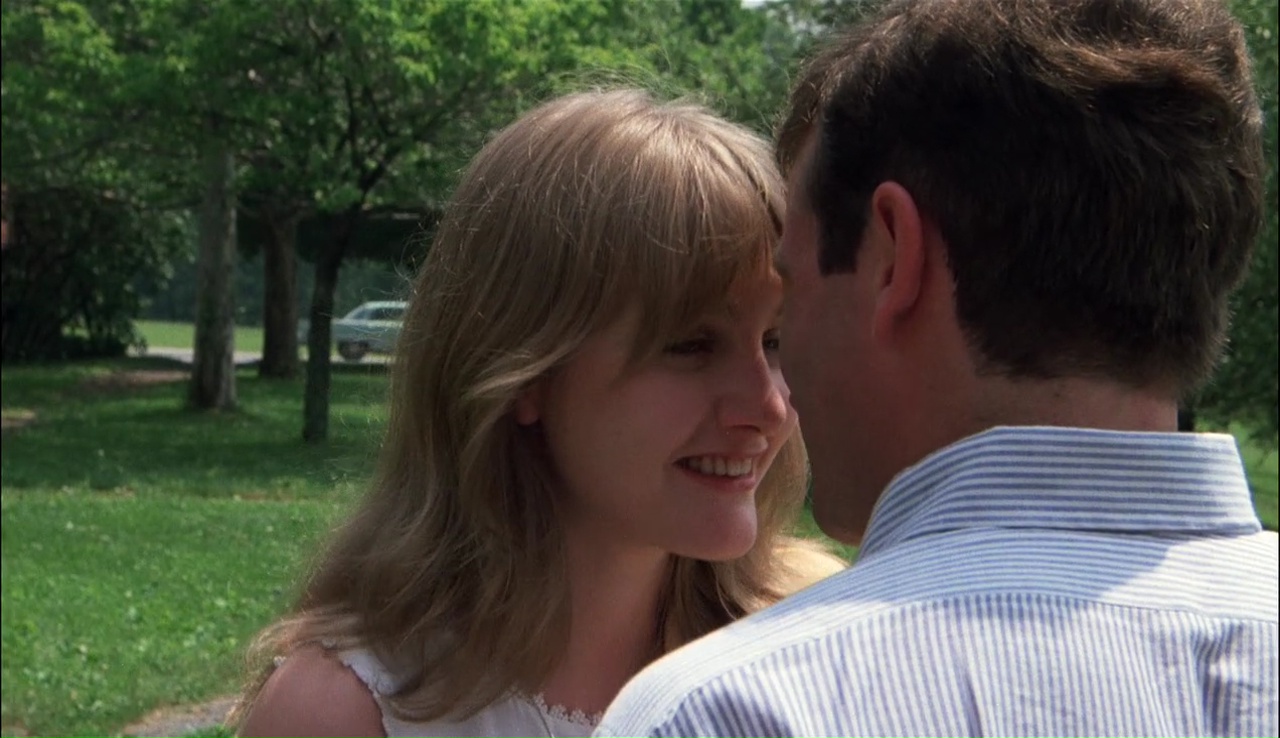 Description
Based on the John Irving novel, this film chronicles the life of T.S. Garp, and his mother, Jenny. While Garp sees himself as a "serious" writer, Jenny writes a feminist manifesto at an opportune time and finds herself as a magnet for all manner of distressed women.
Details for the movie The World According to Garp (1982)
Director: George Roy Hill
Starring: Robin Williams, Mary Beth Hurt, Glenn Close, Jenny Wright
Country: USA
Cheating Scenes in The World According to Garp (1982)
The wife (Mary Beth Hurt) tells her students one day to write a paper on why they selected the course that she is teaching in. A male student writes, "Because, from the first time I saw you, I wanted to be your lover." She looks at him, initially with incredulity, but she lets out a faint smile suggesting she is flattered.
While the wife and her husband (Robin Williams) is in bed, the wife is reading a story written by the student. The husband, who is a writer, tells her, "You're reading another writer in my bed. That's adultery." Little does he know that his joke is foretelling of things to come. The wife really is interested in writers. In fact, even before they were married, she tells her husband that she is gonna be marrying a writer, and that she did. Now, here comes this young student who hits on her, someone who writes and on top of that, is a hunk. Well, what's a wife who's got a fetish for writers gotta do?
The wife goes to her car in the school's parking lot to go home. The student is on his car and is waiting for her there. He looks at her intently while she tries to start her car. She is very much aware of his gaze and has a knowing smile even if she's looking just in front of her and not at the student. Lo and behold, her car won't start, so the student offers her a ride. She transfers to the car of the student.
The student asks her where to. At this moment, it looks like the wife has decided to become unfaithful. She asks him if his apartment is clean. The student lets out a big smile at what he hears and replies that his apartment is pretty clean. She tells him that if anyone finds out about it, then it's over. They drive away from the parking lot to go to his apartment.
We don't see the sex scene between the wife and the student at his apartment. But during dinner with her husband and two kids, the wife is very silent and looks really guilty, while her husband is going on about how beautiful his day is.
One day, the husband finds out about the affair. He takes out the two kids at dinnertime and calls the wife when she arrives at their home. He tells her to end her relationship with the guy by calling him on the phone and not by meeting him so that there will be no last fucks for the road.
The wife obliges and calls her student to end their affair. However, the student doesn't want it to end like that and comes to their house. He even brings champagne with him. She agrees to talk to him inside his car. He makes her drink some champagne. Finally, he tells her that he'll leave if she'll give him a blowjob. He said he always wanted her to. So the wife starts preparing to suck him.
Meanwhile, the husband calls again and since the wife is inside the car of the student in their garage, she cannot answer it. This makes the husband more agitated since he's probably thinking she's meeting him for one last fuck for the road. He leaves the cinema along with his two kids and drives home. He is driving so fast that when he arrives home, he hits the back of the car of the student that is parked in his garage. His wife, who is currently sucking her student at this time, bites his dick off. We don't get to see the blowjob scene and the student's dick getting bitten off, we just learn that that's what happened based on the succeeding dialogs.
2nd Cheating Incident
There's also another cheating incident, this one involving Garp's childhood friend, Cushie (Jenny Wright). When they are in college, Cushie comes home to visit their town and brings her boyfriend along with her. She sees Garp and hugs and kisses him on the lips in front of her boyfriend. Garp asks her how she's been. Cushie looks back at her boyfriend then whispers to Garp that "she has this terrible headache." and pairs it with a naughty smile. This is a sexual reference that they both know from their childhood.
Later, Cushie and Garp make out and start having sex behind some bushes on the school grounds. She gets naked and we see her boobies (the only naked scene in the film). Their sex does not push through, though, because he doesn't have a condom with him.
More info for The World According to Garp (1982)
IMDb Info: IMDB