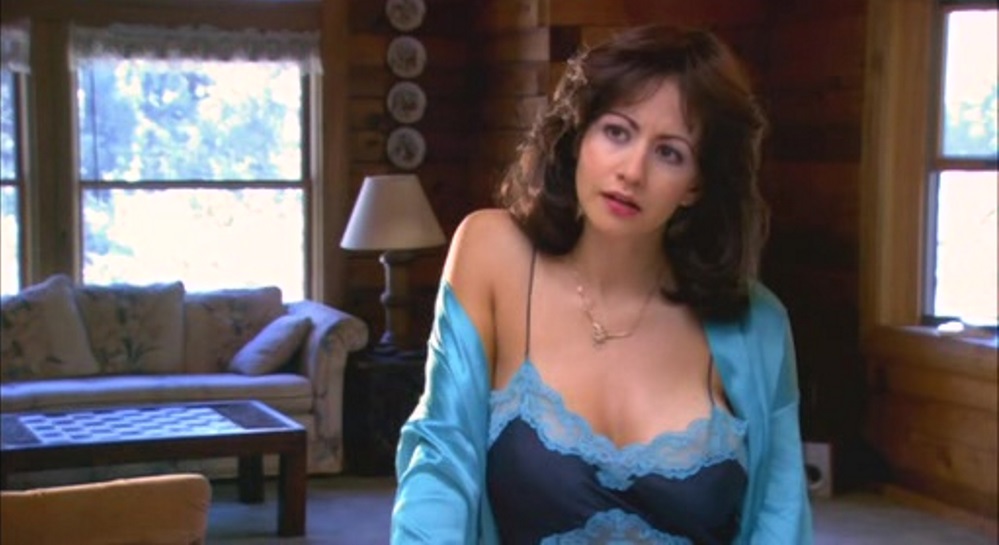 Description
Rob and his wife Laura move to their new home in Breastford town. The women in the community seem to be very friendly and soon enough, they make the couple feel welcome by having sex with them (separately). Laura senses that something is off, and she may be right. A long-time resident named Tamie reveals to Rob the true nature of the town, and it has something to do with the town mayor, Doc Brady, and his device that turns the town's hot women into sex-crazed obedient slaves. Doc Brady turns his eye on Laura and wants to convert her too. Will Rob be able to save her?
Details for the movie The Breastford Wives (2007)
Director: Jim Wynorski
Starring: Glori-Anne Gilbert, Frankie Cullen, Taylor Wayne, Monique Parent
Country: USA
Cheating Scenes in The Breastford Wives (2007)
The couple Rob and Laura (Glori-Anne Gilbert) arrive at their new home in Breastford town. After having sex with his wife in the woods, Rob explores the town by himself and meets Millie, one of the town's resident wives. Millie says they share everything in their community including wine and each other. They have sex in a remote cabin.
Back at their home, Rob tells Laura about Millie. Laura says they should invite Laura and her husband for dinner.
Someone knocks at the door. It's three hot women named Jackie, Marla, and Torrie. They say they're members of the Breastford Women's Association. They're the welcoming committee and they are required by the town mayor, Doc Brady, to warmly welcome new residents of the town. They tell Rob that they have to talk to his wife alone, so Rob leaves his wife with them and goes to the gym in their basement to work out.
Jackie follows Rob to the basement gym and has sex with him on the different gym equipment.
Upstairs, Laura asks Marla and Torrie where Jackie went. They tell her she made a phone call. The three women drink wine. Laura gives the two a house tour. When they reach the bathroom, Laura invites them to try the bath tub. The two says sure and invites her to join them as well. They get naked and have a threesome in the tub.
At night, Rob and Laura drink wine and talk in front of the fireplace. Rob says something about slow living in the town. Laura laughs and says "I don't know if I'll call it slow living," obviously referring to her threesome with the two ladies earlier. Rob asks her what she means, she answers "Never mind."
While Rob is out screwing Marla, Jackie and Torrie visit Laura at her home and have a threesome with her in an outdoor bathtub.
More info for the movie The Breastford Wives (2007)
Caution: Aside from additional information for the movie The Breastford Wives (2007), the links below may contain download links. I am not responsible how you will use them.
IMDb Info: IMDB
Info + Download Link: Rarelust.com
Watch Online: