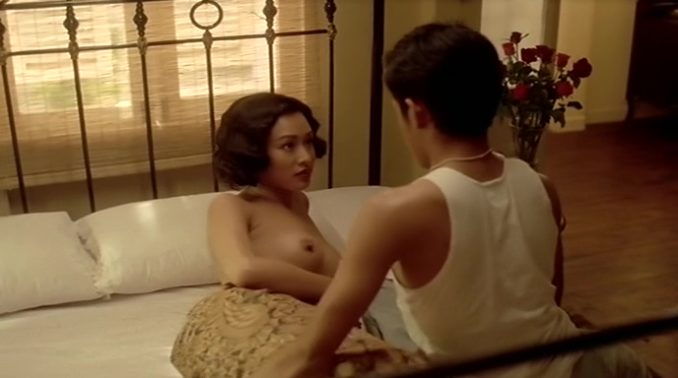 Description
Jan Dara grows up in a house lacking in love but abundant in lust. He quickly picks up the sinful way of life of his stepfather, Khun Luang who married his mother after she became pregnant from being raped. His 'father's' mistress, Mrs. Boonlueang welcomes the young boy into her literal bosom. Wanting badly to know his real father, he leaves the house, only coming back after his stepfather's daughter falls pregnant out of wedlock. He does a favor to his stepfather by marrying her, even though he is deeply in love with his mistress. The truth about his birth, as he will later learn, is as confusing and messed up as his present life and the lives of those around him.
Details for the movie Jan Dara (2001)
Director: Nonzee Nimibutr
Starring:  Eakarat Sarsukh, Suwinit Panjamawat, Kanchit Thamthong, Christy Chung
Country: Thailand
Language: Thai/English Subs
Cheating Scenes in Jan Dara (2001)
Khun Jan is hated by his stepfather, Khun Luang because his mother died while giving birth to him. That's aside from the fact that he is not his real son. Khun Luang never remarries, but fucks and impregnates Aunt Waad, a cousin of Khun Jan's mother, who lives with them to take care of Khun Jan. Aunt Waad gives birth to a daughter, Kaew.
Enter Khun Boonlueang (Khun B for short), Luang's mistress. Since Aunt Waad lives in the main house, Luang builds a house for Khun B just beside the main house. Khun B tells Luang that she and Jan should get to know each other more since he is like a son to her (but she calls him nephew and he calls her aunt). She asks permission to Luang for Jan to visit her at her house so that she can help in disciplining him. With some objections, Luang gives his permission.
Jan starts visiting Khun B. She teaches her how to read and speak English through books. One time, while reading, Jan can't help but appreciate the sexy body of Khun B who is wearing a nightgown.
One day, Jan enters Khun B's bathroom and sees her half naked. She tells him to stop staring at her and wait outside. He turns around, but then he turns back again and walks inside the bathroom. He tells her that he's sorry because he thought that she'd gone upstairs and he just wanted to use the bathroom. She thinks that he's not sorry at all and that he's actually quite happy with what he had seen.
Since Jan has seen all of her, Khun B asks him a favor. She tells him to rub ice on her back. She lies on the couch and lowers her robe to expose her back, then Jan starts to rub it with ice. He gets very sweaty rubbing her hot stepmom's back. He rubs her back with ice using his left hand, then starts rubbing her side boob with his right. Khun B notices it. She smiles, pulls her robe up, and tells him that it's enough for the day.
The next time they have a back-rubbing session, Jan is able to bang his stepmom. After rubbing Khun B's back for some time, he just goes for it and grabs her boobs from the sides. Then, he asks her, "May I?" Khun B replies, "What?.." But she is smiling slightly and seems to be not objecting to his hands cupping her boobs, so he starts kissing her back. She closes her eyes, seemingly liking his kisses. She turns around, exposing her boobs to him, and looks him in the eyes intensely. He takes off his shirt, goes on top of her, and well, in the next few minutes they show us a very nice cheating stepmom-son sex.
Jan is forced to leave the house. After several years, he comes back and he and Khun B fuck again on the day he arrives. Jan is called there to marry Kaew, his stepfather's daughter with Aunt Waad. The marriage is to avert a scandal. Kaew doesn't like Jan and vice versa, so the marriage is a loveless one.
One night, Jan is fucking Khun B when Khun Luang catches them in the act. He suffers a stroke and becomes bedridden after that.
During a Japanese bombing, Jan catches Khun B and his wife Kaew doing some lesbian fucking (brief scene). He doesn't confront them. Kaew talks to him later about it. She says that their affair started when he left the house. Both of them had no one and Khun B wanted to leave Luang. Kaew offers Jan a proposition. She tells him that he can fuck Khun B anytime he wants, and all she asks is that she can also do the same from time to time.
More info for Jan Dara (2001)
IMDB Info: IMDB
Watch Online (No Subtitles): Youtube
Info + Download Link (with Subtitles): Rarelust.com