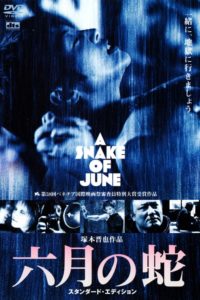 ---
Rinku is a suicide-prevention counselor, living with her husband Shigehiko. He's older than she, scrubbing things constantly, sexually indifferent. They sleep apart. During Tokyo's rainy season, Iguchi, a photographer Rinku has counseled by phone, sends her pictures he has taken through her skylight: she's wearing a short skirt, masturbating. He offers her the negatives if she'll follow his instructions. She's humiliated and agrees. He tells her he's only giving her license to express her inner desires. He sends her into the night to walk on the wild side. Then, she asks a favor of him, and soon her husband receives phone calls and photographs. Where will this triangle lead?
|
Cheating Notes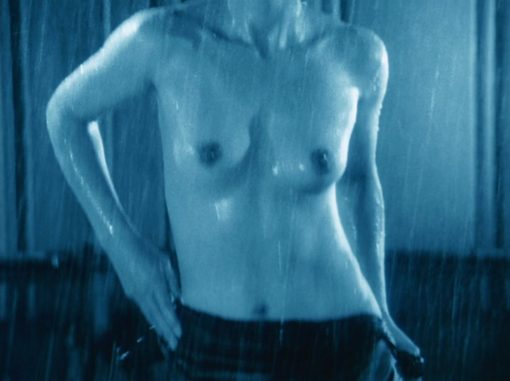 Basically, the wife is blackmailed to do some kinky stuff in exchange for her revealing pictures. Initially, the photos in question are those of her masturbating inside her house but later, photos of her doing those kinky stuff she was forced to do are also used to blackmail her.
Wife's perspective
First, the blackmailer tells the wife to go somewhere outside her house and masturbate under the rain.
Then, a few days later, the blackmailer tells the wife to go walk around town while wearing her short skirt with no panties on. He tells her to buy a dildo in a store and then put that dildo inside her vagina and turn it on while she walks around town. She buys some vegetables while the vibrating dildo is inside her pussy, which weakens her knees and makes her stumble in front of the store owner.
Satisfied by her obedience, the blackmailer returns her photos, but the erotic thing is that she turns the dildo on again and uses it to pleasure herself in the public bathroom even if she already got the photos.
This is the wife's perspective and all this time, we see her being timid and crying and being hateful towards the blackmailer. This is in contrast to her husband's perspective below.
Husband's perspective
From the husband's perspective, it seems that he finds out about the photos and is able to tail his wife when she walks around town with no panties on and later with a vibrating dildo inside her pussy. In his version, his wife is confident, laughing and even has a seductive smile for others while doing what the blackmailer told her to do. She also seems to enjoy her dildo-assisted self-pleasure more intensely inside the public bathroom.
Plus, there are additional kinky stuff that the wife does in his version. After leaving the public bathroom, his wife goes to a vacant lot somewhere where she strips off her clothes and continues pleasuring herself with the remote-controlled dildo under heavy rain while the blackmailer takes photos of her from inside his car. The husband masturbates to this view. I couldn't blame him as this scene is quite erotic.
Summary
I'm not sure whose version of the story is real: the wife's or the husband's. The movie turning surreal in the latter part doesn't help either. Maybe one of their versions is just a fantasy, or maybe both of them are. There's also a scene in the latter part where the blackmailer is telling the husband that his wife asked him to take the photos especially for him (her husband), which means that it is not a case of blackmail. This adds to the confusion.
Nevertheless, I find some scenes in this movie quite erotic although there really are no definite cheating scenes as the blackmailer never even touches nor gets close to the wife but only tells her to do self-pleasure.
---
---
---