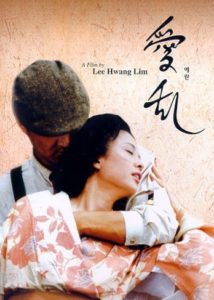 ---
Momoae comes to her sister Hideko's place to have a vacation. She takes a liking to Hideko's husband, Yoshimura, and seduces him. When Yoshimura makes a trip to the capital, Hideko discovers that a person has been hiding in their cabin. It's Chul Min, an artist who has fled to Japan to escape the conscription. Hideko starts falling for Chul Min because of their mutual interest in art. Momoae observes this and she also tries to seduce Chul Min, seemingly intent on coveting whatever her sister has. Eventually, things turn out for the worse when Chul Min kills Momoae in one passionate moment. Hideko tells him to run, but the soldiers catch up to him and shoot him. Yoshimura, who has returned from the capital, sees Hideko holding the bleeding Chul Min in her arms. He takes a gun and aims at Chul Min while Hideko shakes her head.
More Info: IMDB
|
Cheating Notes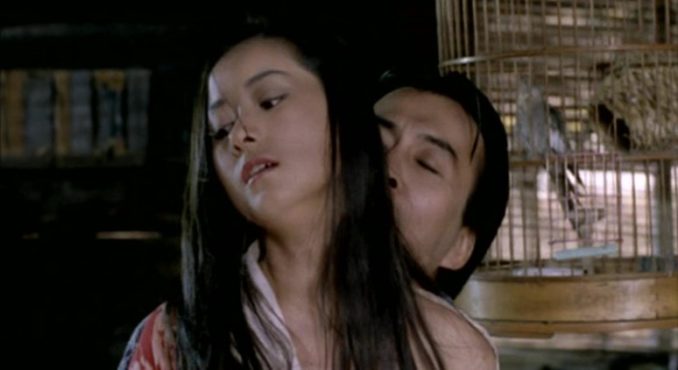 Momoae comes to her older sister Hideko's place for a vacation. One night, she pleasures herself when she hears and sees Hideko and her husband having sex.
Momoae seduces and fucks Hideko's husband in a cabin in the woods that the couple owns. It's a very erotic scene, in fact, more erotic than the wife's cheating scene which will still come later.
Hideko's husband makes a trip to the capital. She discovers that someone is hiding in their barn. The guy is Chul Min, an artist who has fled to Japan to escape the military conscription. She welcomes him to her home and introduces her to her young son and to Momoae. She eventually falls for him. One night, they have sex on the beach. The scene's quite dark. In the morning, Momoae sees them coming from the beach and suspects that something's up between them.
Some soldiers go into the woods so Chul min hides inside the cabin. Momoae grabs this chance and forces herself on Chul Min since he can't really shout or resist because of the soldiers nearby. I guess you can say that she raped him, but she gets a pass from me since she's hot. The scene's also quite dark.
The wife also has sex scenes with her husband.
Summary
Overall, I find this film erotic and a great find, partially due to the cheating wife of course, but more specially due to the naughty sister-in-law. There's a youtube video below but I recommend the hotxshare copy for a better viewing experience.
More Info for Aeran (1989)
Info + Download Link: Hotxshare.com
Watch Full Movie Online
Part 1 of 2 (Auto-starts at the scene where the sister-in-law seduces and fucks the husband. Great scene)
Part 2 of 2 (Auto-starts at the cheating scene of the wife and her lover at the beach. The scene's a bit dark but it's still good.)
---
---
---