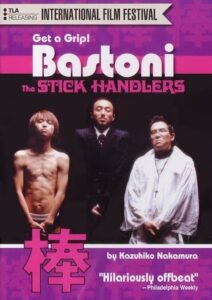 ---
Husband and wife Yamaguchi and Natsuo are young, attractive stars in Japanese adult films. When Natsuko retires to have a baby, Yamaguchi is surprised to learn that his ex-girlfriend Miyuki has befriended his pregnant wife. Miyuki left Yamaguchi when he first started appearing in adult films, and now she's back to show them what poor lifestyle choices they've made. A wry comedy that probes the impact sexuality has on all our lives.

Kazuhiko Nakamura directs this sexually charged wacky comedy set in the world of the Japanese adult video industry. The story follows a young woman's (Amiko Kanetani) foolish attempts to win back a lost love (Shunsuke Matsuoka) by taking the one recourse she believes might actually do the trick: becoming a porn star.
|
Cheating Notes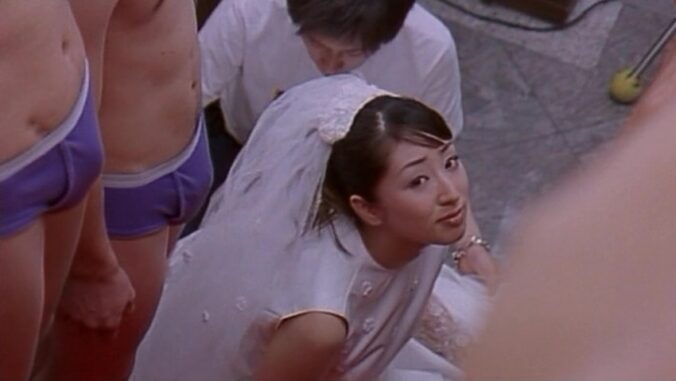 Ryo Yamaguchi and Natsuo met and fell in love while doing a porn movie. Now they are married and she is a few months pregnant. We see them shoot a scene where they play as bride and groom but in order to get to the groom on top of the stairs and marry him, the bride has to suck several men along the way and get creamed on the face by each of them.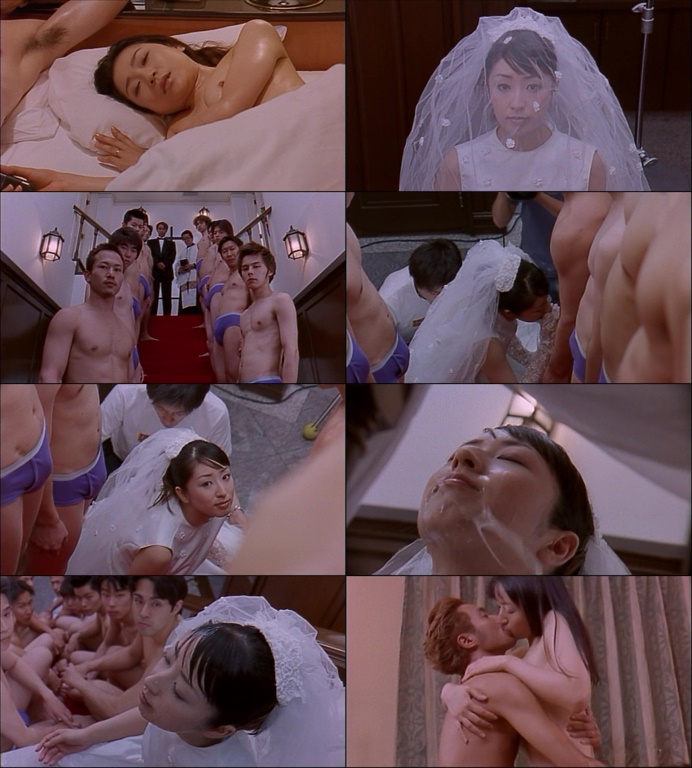 The two are very cool about their jobs, basically, they allow each other to fuck other people onscreen as long as there are no emotions involved. One time, Ryo asks Natsuo how sure she is that the child is his. She tells him that she usually put a cap on if she was having sex with the other guys, but she removed it when it was Ryo.
Meanwhile, Miyuki is Ryo's ex-girlfriend and is now unhappily married. In an earlier part of the film, she is already cheating on her husband with a co-worker. We see her in an after-sex bed scene with the co-worker, talking to him about Ryo who is currently on the porn film they're watching on TV at that moment.
Miyuki wants to get back with Ryo and so as part of her plan, she decides to be in an adult film, specifically in the category "amateur adulterer housewives",  and chooses Ryo to fuck her onscreen. On the day of their shooting, Ryo couldn't perform because he still has feelings for Miyuki. He takes a break in a private room. When he comes out, he finds out that another actor has started fucking Miyuki. He runs and pulls the actor away from Miyuki and hugs her. The director gets an idea from this and in the next shoot, he has Ryo tied up and forces him to watch Miyuki give another actor a blowjob. Miyuki requests the actor to let her do Ryo as well. The actor allows it and so she rides Ryo's dick while he's still tied up.
Miyuki also deceptively introduces herself to Natsuo as a fan named Kyoko. This earns her a slot on the couple's road trip. While on the road, she reveals to Natsuo that she fucked Ryo onscreen. Natsuo is initially cool about it, telling her that it's her husband's job, that they love each other, and even asks her if it was good. Natsuo even takes the camera from Miyuki and offers to shoot them if they want to fuck. I love the initial reaction of this woman, she's so secure emotionally. However, she starts getting affected when she finds out that Ryo couldn't perform initially on his onscreen lovemaking with Miyuki. You see, this is also Ryo's initial reaction when he and Natsuo first fucked onscreen, so Natsuo realizes that Ryo still has feelings for Miyuki if he had the same reaction with her.
Natsuo gets hysterical and starts hurting Ryo, then Miyuki, etc. Miyuki runs away to a secluded forest area, near a cabin. Ryo runs after her, ties her up,  starts the camera, bends her over, and tells her that they're going to make a rape film as her punishment for revealing everything to Natsuo. She isn't putting up any resistance so he says that it isn't going to work. He fucks her and films it anyway, and goes up to the balcony of the cabin to unload his cum from a higher ground down to her face.
More Info for Bastoni: The Stick Handlers (2002)
---
---
---