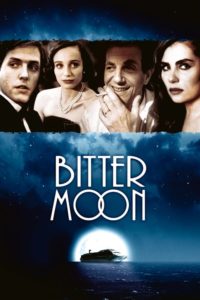 ---
After hearing stories of her, a passenger on a cruise ship develops an irresistible infatuation with an eccentric paraplegic's wife.

British couple Fiona and Nigel Dobson are sailing to Istanbul en route to India. They encounter a beautiful French woman, and that night Nigel meets her while dancing alone in the ship's bar. Later he meets her crippled American husband Oscar, who tells him their story. While living in Paris for several years trying to be a writer, he becomes obsessed with a woman he met by chance on a bus. He tracks her down and they start a steamy love affair. Soon Oscar finds himself enslaved body and soul by her love, and continues to tell Nigel the details of this relationship in various stages over a number of visits to Oscar's cabin.
|
Cheating Notes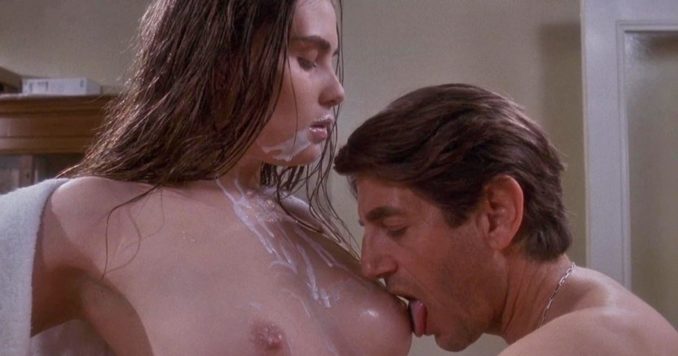 So Nigel puts up with listening to the crippled Oscar's story because he wants to fuck his wife, Mimi. He thinks he has a chance but not really because he's a pathetic loser.
1:33:42 Nigel is able to kiss Mimi. He thinks he's really making progress with her, but she's just humoring him so that he'll continue to listen to her husband's story.
1:56:13 In Oscar's story, Mimi dances with a black man in front of him in their apartment in France. He's already crippled at this point. Mimi and the black man dance towards a room. She kisses him just before they go inside the room and disappear from Oscar's sight. Her moans can be heard after that, meaning they fuck inside the room but we don't see it.
2:10:17 During a party in the cruise ship, Nigel's wife Fiona dances lewdly with Mimi on the dance floor. Then, they make out, to Nigel's disbelief. He was trying to make out with Mimi earlier and he even told her that he loves her but he got rejected. And now his wife doesn't seem to have a problem scoring with Mimi. Fiona and Mimi leave the ship's bar to go fuck in a cabin. We didn't see their actual sex, but later, we see Nigel enter Oscar and Mimi's cabin and along with Oscar, he sees her wife naked under the sheets together with Mimi.
Watch Full Movie Online
---
---
---