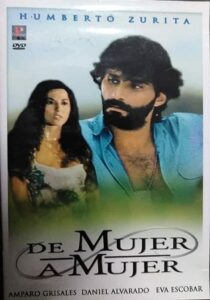 ---
Elsa and her married friend Miranda become jealous and violent toward each other as they compete for the sexual affection of the hunk Sergio. Elsa takes comfort in the arms of Miranda's husband Eloy after Sergio and Miranda run away together. Their lustful desires lead to tragedy in this erotic drama.

An unhappily married woman and the mother of two small kids, Miranda, falls hopelessly in love with Sergio, a drifter who boards at their place along with his girlfriend, their two friends (a couple), and with their big wheel pickup and motorbikes. She abandons her family and leaves with her lover. Their time together is reckless but exciting. Miranda misses her children and wants to meet them. But the husband wouldn't allow her. She brainwashes her lover into killing her husband. He obliges, leaving behind some bonus dead bodies.
|
Cheating Notes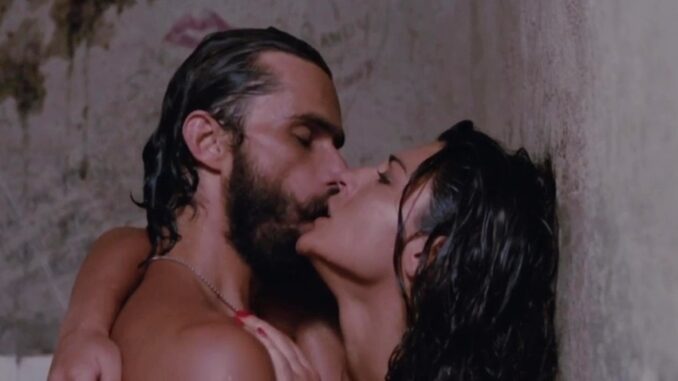 At 19:20, Miranda and her husband break up Elsa and Sergio's dancing. I dunno why, maybe they're cockblocking Sergio and trying to prevent him from seducing Elsa. Miranda's husband takes Elsa as his dancing partner and she, in turn, dances with Sergio. Each pair dances with their bodies touching each other. Sergio starts kissing Elsa, some on the lips but mostly on her cheek and neck, and runs his hand all over her body. She allows it and gets aroused by it. Her husband and Elsa are practically doing the same.
Even though Miranda is obviously attracted to Sergio and was almost fully making out with him on the dance floor during the party, she doesn't give in to him when he attempts to fuck or kiss him in the next few days. At 50:23, she points a pair of scissors on his neck when he inserts his hand on her skirt while she is tending to his wound.
At 58:00, Miranda observes Sergio from the window of her house while a party is going on in the backyard. Sergio enters the house and forces himself on Miranda. She resists initially, of course, but eventually gives in and has sex with him. The next day, she leaves her husband and kids and comes with Sergio on his big-wheel pickup. They have sex a few times on the road, including one in the shower.
Summary
Classic Latin American erotic films don't disappoint.
Watch Trailer
---
---
---