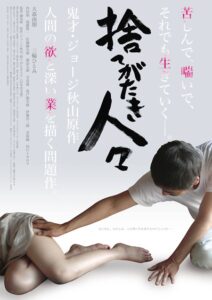 ---
Yusuke Mamiana doesn't have a job or money and all he thinks about is sex. He decides to go back to his hometown and meets Kyoko, an attractive girl whose beauty is diminished by a birthmark on her face. Out of his impulsive desire, Yusuke starts a relationship with Kyoko by forcing himself onto her. They start to live together and as time passes, Yusuke contemplates on starting a family with Kyoko.
|
Rate this movie
[Total:

0

Average:

0

]
Cheating Notes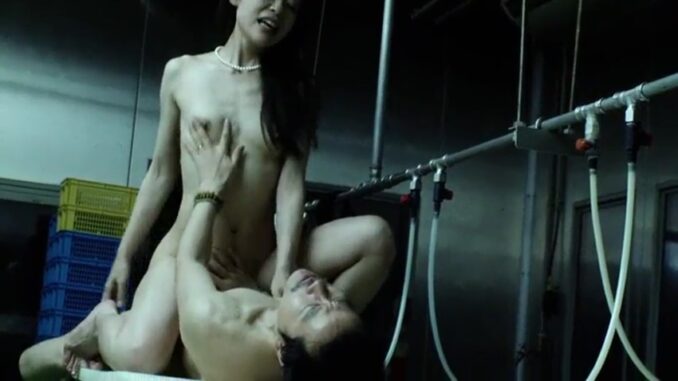 First wife, Kyoko
First, let's talk about the main characters, Yusuke and Kyoko. After they have become sort of a couple (he forces himself onto her but I guess she really likes him so she accepts him as her new partner), Kyoko fucks a guy inside a van by the beach in exchange for money so that she can help Yusuke financially.
In the third act of the movie, where Yusuke and Kyoko have already gotten married and have a son, Kyoko cheats on Yusuke with her co-worker. On their first cheating scene, they are working together on some documents before they start to make out and lie on the couch to have sex. On their second cheating scene, Kyoko rides the guy on the said couch. Kyoko's husband (who is also fucking some other middle-aged woman) finds out about her infidelity and the drama among husband, wife, and their kid becomes hardcore.
Second wife, Kazue
Kyoko helps Yusuke get a job at the fish factory where her friend, Kazue, and Kazue's husband are working at. Yusuke, aside from becoming a fish processor, also becomes the factory boss' driver.
Kazue and her boss, along with Yusuke as the driver, attend the wake of Kyoko's mother. On their ride home, Kazue's boss starts caressing her hand in the back seat of the car. They end up having sex at the factory, on top of one of the long tables where the fish are cut up and cleaned by Kazue's husband and the other workers. Kazue rides her boss' dick hard. Yusuke, needless to say, witnesses them fucking.
When Kazue comes home, her husband tries to initiate sex with her. She politely refuses while smiling but he doesn't want to stop. When he tries to touch her pussy, she stands up from the bed and flat out rejects him, because maybe she's not in the mood, especially when she just had wild, fulfilling sex, with her boss, and also maybe she's worried that he will smell sex on her pussy.
A few days later at the factory, Kazue's husband looks at her with a smile from a distance, admiring her beauty. Their boss approaches her to check on the report that she's working at. All seems to be normal until Kazue makes a move, which, although subtle and quick, is enough to reveal her infidelity to her husband: she puts her body forward and presses it slightly against her boss' side, puts her hand on his back gently, and then whispers something to his ear while letting out a quick, silent smile (75:15). Her husband's own smile immediately vanishes from his face. The boss looks up and sees Kazue's husband staring straight at them. Kazue also looks up a few moments later and based on the expression on their faces as they view her husband's expression, they know that they have been found out.
Several scenes later, we see Kazue's husband alone at home, masturbating, while she is banging their boss on the cleaning table at the factory (86:32).
Summary
The little gesture that Kazue made towards her boss while her husband was looking definitely made her infidelity hotter (75:15). Although it was quick and subtle, it was enough for her husband to know that she was fucking their boss.
Watch Full Movie Online
---
---
---