---
A WW I veteran still haunted by his time in the trenches settles in a small town to work for the railroad company. His pretty wife attracts the attention of the lonely young gravedigger.
|
Cheating Notes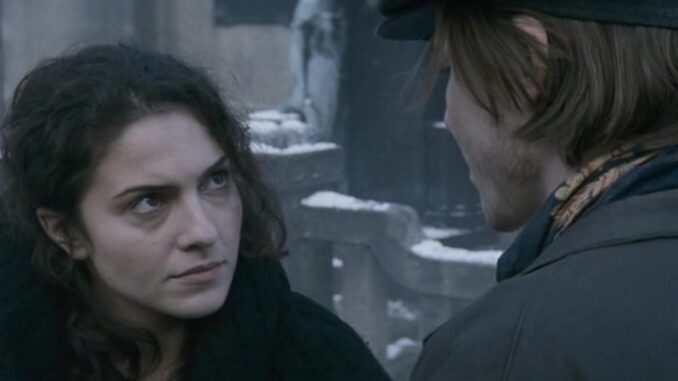 20:50 Gravedigger's first attempt to fuck the wife. She rejects him. She doesn't tell her husband about it and tries to have sex with him, but he rejects her, so now we have a sex-deprived wife with a sexual proposition from a young man. What is she to do?
27:42 After attending a funeral, the wife has sex with the gravedigger in a charnel house at the cemetery. A clergyman witnesses them fucking and he masturbates while watching.
33:54 Gravedigger tries to fuck the wife while her husband is nearby at his post beside the railroad. He lays her down on a stack of hay and starts kissing her. She is hesitant but is also kissing him back. Her husband notices that something's wrong and rushes to their spot. He sees the gravedigger run away, but he thinks that his wife is rebuffing the young guy's aggressive advances so he's not mad at her and threatens to kill the gravedigger instead if he comes near her again.
36:02 The wife and husband have sex. The wife becomes pregnant and gives birth to a baby girl but there's a chance that it is the gravedigger who impregnated her.
54:12 The husband becomes deaf temporarily. The gravedigger, knowing that he is deaf, says this to him behind his back where he can't read his lips: "You have a pretty wife and she's pretty handy, you deaf post. look after my daughter for me, you gimp."
1:29:24 Clergyman blackmails the wife and tries to fuck her. The gravedigger saves her. She makes out with him for a bit before pulling away to go home to her husband.
1:33:54 Thinking that the husband is still deaf, the gravedigger speaks in front of him about fucking his wife. The husband reveals to him that he isn't deaf anymore. He bends the guy over, pulls the guy's pants down, and gives his bare butt a whipping.
Summary
The fucking insecure beta gravedigger deserved getting butt-whipped by the husband. He's an annoying prick of a loser who didn't deserve the wife. But of course, I still enjoyed the wife's infidelity, although I am left wanting because she didn't show her breasts, which I feel would have looked nice based on her cleavage.
Watch Full Movie Online
---
---
---