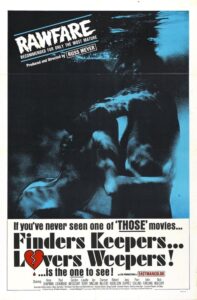 ---
Paul, the owner of a topless go-go bar on the Sunset Strip, isn't having a good day. His girlfriend, unbeknownst to him, is planning to rob his club, and his wife is having an affair with the hunky bartender.
|
Cheating Notes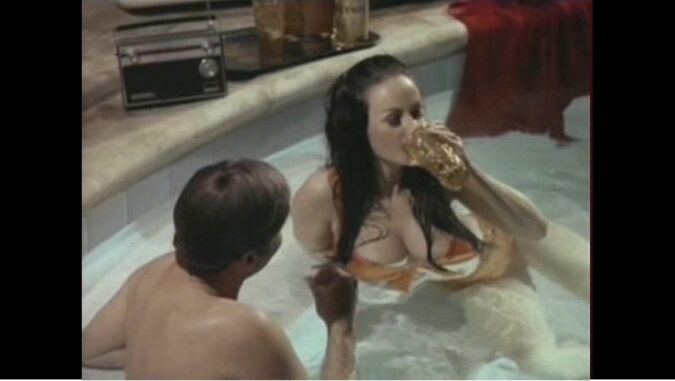 The husband comes home drunk and his wife attends to him. The wife immediately shows us her goods (her curvy body and big boobs) by getting off the bed naked. During their conversation, the wife tells her husband that maybe she should be a future topless dancer in his bar since she's got the "body, the face and the talent" for it. Husband wants nothing of it.
While the husband is in the bathroom, the bartender calls and the wife picks up the phone. He hits heavily on her, telling her how he wants to do wild and indecent things to her. He tells her to go to the bar to have a drink with him. He also tells her their current problem in the bar that night: that their topless dancer left early and the guests are clamoring for more.
The wife tells him she's not interested in his advances (at least for now), and to his offer for a drink, she says no but adds maybe some other night. But she did decide to take care of the bar's problem that night: She goes to the bar without her husband's knowledge and dances topless for the guests. This is to the guests', and of course, the bartender's delight.
All those lecherous old men lusting after me, thinking of obscene things.
After her dance and after everybody has left, the wife is crying about what she just did,  thinking of  "all those lecherous old men lusting after her." The bartender starts to console her and offers her a drink. She's still naked down to her panties at this point, so the bartender gives her her dress back. She wears it but did not button it up, so her front is unbuttoned all the way down while she is talking to and drinking with the bartender. I guess it doesn't matter since he already saw her dancing topless earlier, anyway, but it's still a pretty good sight, knowing that she's somebody else's wife but she's dressed that way in front of someone who is not her husband.
At one point in their conversation, the bartender is playing with one of the buttons of the wife's dress. The button is located just above her half-exposed breast.  Since his hand is not really touching her breast, the wife doesn't seem to mind or even notice it, but from our point of view it looks good, since the bartender pinches and twists the button like it's the wife's tit.
The bartender continues to hit on the wife. Eventually, it pays off as she starts to loosen up. She says she finds him attractive but insists she's still a married woman. He asks her to dance. She reluctantly agrees as the bartender is being firmly insistent. Her dress is still unbuttoned all the way down so her entire front, including her naked breasts and her panties, are half-exposed while dancing with him. The dance really loosens her up completely as she is now grinding her exposed front to his body's and she now welcomes his embrace and touch.
At the end of the dance, the bartender asks her to come to his place and have a midnight swim in his pool. She says yes, and just before walking out of the bar she kisses him, and they make out. They went to his place and there, finally the bartender was able to bang her in his pool. At the exact time that they were in the pool and about to make love, the husband at home wakes up and finds that his wife is not in their bed.
Watch Full Movie Online
Russian dubbed.
---
---
---