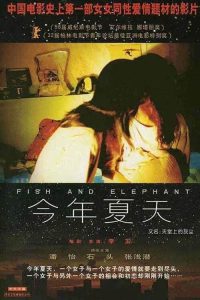 ---
The story follows the elephant keeper in the Beijing Zoo who maintains an aquarium of fish in her home (hence the two-animal title), and her lesbian lover, a fabric saleswoman in an outdoor market. Her relationship is tested, however, when her recently divorced mother returns to town in the hope of setting her daughter up in marriage. Further complicating matters is one of Xiaoqun's ex-lovers also returning to her life with the law in pursuit.
|
Cheating Notes
The female elephant keeper provides her female fugitive ex-lover a hiding place at the zoo where she's working. Aside from hugging, it isn't clear if they re-started their affair.
When the elephant keeper's girlfriend finds out that the elephant keeper has reunited with her ex-lover and is keeping her at the zoo, I guess she assumes that she's cheating on her, so she has revenge sex with a male she meets in a bar (1:03:58, 1:10:26). Only the after-sex scene part is shown, where we see her boobs.
The elephant keeper and her girlfriend make up and have sex (1:30:10). It's the only proper sex scene in the movie and I was surprised that it's even there because the film is mostly dialog-driven.
---
---
---