---
A morality tale about carnal desire and betrayal, Ng stars as Sai, a rural villager who leaves his young wife behind and goes to Hong Kong to find work. He shares an apartment with his best friend Choi (Alex Man), a rough womanizer who goes to Thailand and brings home his new Thai wife Aoki (Aoki Yuko). As Sai is forced to hear Choi and Aoki having sex next door every night, his own desire escalates to the point where he starts to spy on the newly married couple. When Choi can't even keep down his womanizing ways in the presence of his wife, Aoki goes to Sai for consolation. However, the two are unable to hold their desires any longer, beginning a steamy affair that may lead to fatal consequences.
|
Cheating Notes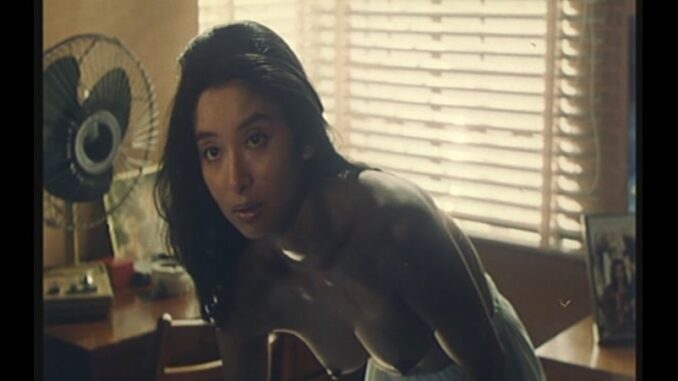 Nice several sexy and seduction scenes of the wife and her husband's best friend leading to their first sex, including:
Him walking on her with nothing but panties on inside her room, on the first day that her husband brought her home.
Her finding out the hole that he created on the wall to peep on her and her husband having sex, but not doing anything about it and instead she looks at him directly in the eye when he peeps on them fucking after her discovery, letting out a smile when she hears him fumble and break something behind the wall while doing so.
Her walking into the kitchen the morning after, with nothing but an oversized, unbuttoned shirt on, exposing a lot of her cleavage, looking at him silently like, yeah, she knows that he peeped on them, and seducing him without saying a word while he makes breakfast.
Her breast getting pressed against his hand inside a phone booth where they took shelter from the rain due to her drunk husband pressing against them, and then when they get home, her not covering herself inside the shower when he comes in to get a basin.
Their first sex is inside a cinema after they leave her husband while he's flirting with a chick at a bar. Well, it is the husband who signals to his best friend to take his wife away so that he can have some alone time with the chick. While the wife is bouncing on the guy's lap, a sex scene is playing on the big screen inside the cinema.
Their first proper bed sex is at a motel, after she leaves her husband in the apartment for a supposed errand.
Watch Full Movie Online
---
---
---