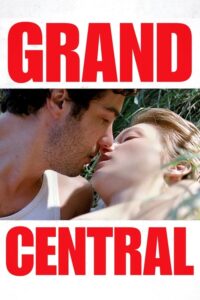 ---
A young unemployed man finds work at a nuclear power plant and begins an illicit affair with the fiancée of one of his senior workmates.

Gary, an unskilled young man, lands a job as a decontamination sub-contractor at a nuclear power plant in the lower valley of the Rhone. Inducted into the workforce by supervisor Gilles and veteran Toni, Gary discovers that radiation contamination is not just a risk factor but an everyday hazard. At the same time, he begins an illicit affair with Karole, the fiancée of Toni.
|
Cheating Notes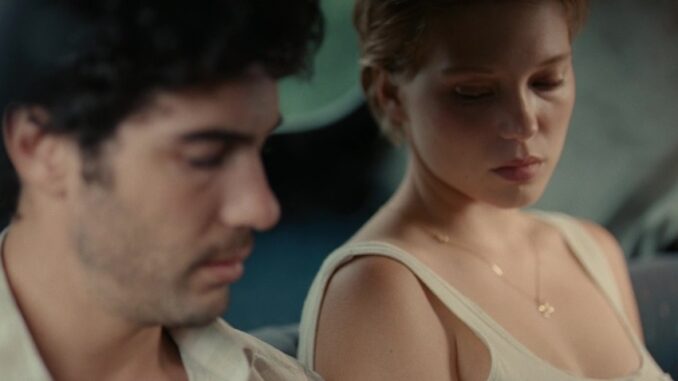 During a drinking session with his new workmates at the nuclear power plant. Gary is approached and kissed by Karole (Léa Seydoux), Toni's fiancée, to demonstrate to him how it feels like to be radiated. After making out with him for a few seconds, she tells him, "Now you had the whole experience (of getting radiated). Fear, anxiety. Your vision is blurred, your head is spinning. Your legs are shaking, this is exactly like being radiated." The group laughs while Karole walks towards Toni, who doesn't seem to mind what his fiancée just did, and kisses him too. One of the guys gives a toast, saying, "Toni's right to marry Karole: She's horny!"
Gary and his two friends give Karole and her friend a ride. She looks sexy in her sleeveless shirt with no bra on, with her nips visible through it, and her denim shorts. She sits in the back alongside Gary. He lets his arm rest lightly on the side of her exposed leg. A simple but sexy scene. She looks at him and the next thing you know, the scene transitions to them having sex on a grassy field.
Gary and Karole make out and pet excitedly in an isolated room in a bar. They get too excited for their own good and decide to calm down and stop their makeout and petting session, so it doesn't proceed to sex. Or maybe it does, but the scene just gets too dark after their initial petting to see what's going on.
One night, Gary and Karole use a boat on a lake and go to an isolated grassy field. She lies down on the field and lifts her shirt up to expose her naked body to him. He comes down towards her and they fuck.
Toni starts noticing that Karole is frequently going out of his sight (usually to be with Gary). He starts suspecting that she and Gary are having an affair.
Gary and Karole meet again in the woods and how they hug and kiss each other suggests that they're falling in love with each other.
Karole finds out that she's pregnant and it's a problem because Toni is incapable of conceiving.
During a picnic, Toni takes a walk with Karole and confronts her about her affair with Gary, about the kid in her belly, their wedding, etc. In the end, Toni decides to go 100% cuck and will continue on marrying Karole despite her getting impregnated by somebody else.
Summary
Léa Seydoux is hot, and her cheating scenes here are quite hot.
---
---
---