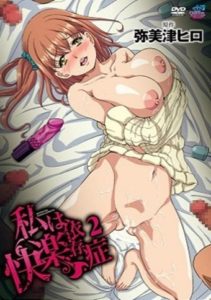 ---
A dude has recently moved into an apartment complex with his pregnant wife when he accidentally stumbles upon an orgy going on in one of the rooms. He decides to get in on the action since his wife ain't been fucking him lately. He fucks one of his teenage neighbors to get things started and ends up fucking his landlady for good measure. Soon, the wife finds out where he's been going and decides to join him without his consent with one rule: that she doesn't get penetrated. But will she be able to keep her self-imposed rule as the orgy goes on?
|
Cheating Notes
Below is an informal outline of episode 2 from a post at https://myanimelist.net/forum/?topicid=1512405
57 sec. Husband: Yuuko What are you doing here? This place is great (followed by eye close up) You can clearly see that he is not behaving naturaly he now have a rush, the dude is clearly intoxicated by the debauchery.
1:02 minutes Yuuko: Wha-he's not acting normal at all...
User-san quote:
He just suddenly snapped. There is no show of it being connected to his wife. And as I have said, he even wanted his wife to try the place out and never for an instant tried to stop her. Yes, he went berserk. Whether or not he is mind broken is arguable. Considering he did not care for wife in the least and even avoided her to have sex elsewhere, why should he become mind broken? He still can have as much sex as he wants and every other girl he's had probably been gangbanged by others already anyway.
2:26 After the wife discus the challenge to get her husband back and out of this debauchery at the moment she was about to begin with the challenge when some men were touching her breast...
Husband: Wai- (the world wait is cut)
Fuu-chan (Girl who is with the husband): You need to keep your eyes on me, mister.
2:39 Husband: My turn
Fuu-chan (Girl who is with the husband): No it's not. You know the rules.
User-san if the husband is not concerned about his wife like you suggest why he deviated his sight from the girls he is having fun with to his wife? He was about to interrupt the challenge... He is a selfish brat the dude wants to poke all of those girls but he also doesn't want the wife to participate in the communal sex thingy...
Cut to the wife slowly enjoying the stimulation, 10:51 minute (Yuuko: Honey, I'm sorry. I can't control myself anymore!) cut to the moment when the wife lifts the no penetration rule... then enjoying sex with her neighbors (gang-bang) remember he was in the same room and he also was paying attention to his wife he saw and heard his wife enjoying sex with others (13:34 min. this is the best I've ever felt in my life, followed by Honey you are starting to fade from my mind then the wife begged the others to cum inside her she doesn't care if she gets pregnant [catalyst])
Then we get the final moment of the anime
Fuu-chan: N-No, you can't.
Husband: Let me have sex too (begins to rape the girls thus breaking the rules)
Watch Full Episodes Online
Watch Episode 2 Below
---
---
---