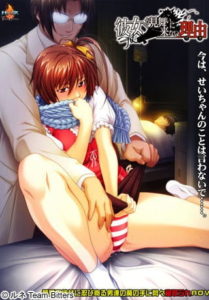 ---
Seiji is a permanent part-timer. He has been dating a girl, Ai, for two years and he is now thinking about marrying her. But one day, he has a traffic accident and breaks his leg and becomes hospitalized. Ai promises, with a smile, to visit him every day. But their relationship gradually changes after his hospitalization.

A real estate broker who hit Seiji. A guy at the same hospital room. A handsome doctor in charge of him. A co-worker at his shop. A nurse who is his ex-girlfriend. Various people cut in on Seiji and Ai's relationship. Will they be able to overcome it and keep their relationship?
|
Cheating Notes
Episode 1
Seiji has sex with his girlfriend Ai on his hospital bed. The patient next to them gets a video of their lovemaking and blackmails Ai to give him a blowjob in the cr. The nurse, who had sex with Seiji already a few nights before, ties Seiji on his bed while the patient forcefully fucks Ai in the adjacent bed. The nurse also fucks Seiji too.
Episode 2
The rich guy whom Seiji had a traffic accident with wants him to pay for the damages to his rare car. The rich guy's wife talks to Seiji alone and offers to pay for the damages in exchange for Seiji fucking her.  Ai sees them doing it but doesn't make her presence known and runs away instead. She is picked up on the way by the rich guy. He brings her to his mansion, laces her drink with some drug, and in her weakened state, he molests and fingers her on the couch, which makes her cum. He proceeds to fuck her in his bedroom.
Seiji gets kidnapped by the rich guy and along with other men, is made to watch his girlfriend get it on with her sister; get sandwiched and double-penetrated by a guy and the rich guy's wife (with the wife wearing a dildo and entering Ai in the ass); get bukkaked; etc.
Episode 3
Ai tries to pay off her bf's debts by working at a club. She thought that her job there is to just chat with the clients and pour liquor, but of course, sex will be involved and she gets fucked by several clients.
Ai meets Tsutomu, Seiji's senior, in the club. She confides to him. He confesses his love to her. He fucks her in the club several times. She resists at first but experiences great orgasm from his big cock.
Tsutomu finds a way to get Ai to work again at the pizza parlor. But he also continues on fucking her there.
Ai tells Tsutomu that she wants their affair to end because she is still Seiji's girlfriend. In response, Tsutomu fucks her in front of the sleeping Seiji inside his room at the hospital.
Ai wakes Seiji up with a blowjob because of guilt from fucking Tsutomu just earlier. He cums too quickly though, unlike Tsutomu, so she gets disappointed and comes to Tsutomu who is waiting outside and offers her pussy to him.
---
---
---