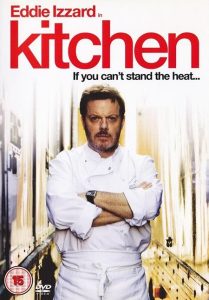 ---
Kitchen was a 2-part TV movie shown just once on Channel 5 back in 2007 and then quickly forgotten by everybody involved, which is a shame because it's not half-bad. This is the tale of Danny Swift, an annoyingly cocky little ned that's narrowly avoided jail by getting an apprenticeship in the kitchen of a swanky Glasgow restaurant run by Nick Malone (Eddie Izzard). In between cooking and staying well clear of his mental, ex-army, closeted gay sous chef, Danny enjoys winning bets by shagging the rich birds that frequent the restaurant. That is until his latest conquest turns out to be the randy wife of his parole officer and thus things begin to get a bit complicated; she wants Danny to help her kill her sadist husband and steal his cash. Natalie J Robb, who used to be in High Road but is better known as Moira from Emmerdale these days, is a killer femme fatale here; a nasty sociopathic cougar who looks like she'd bite yer dick off given half a chance. Izzard's got his own little b-story unfolding as well of course – restaurant critic, ex-wife, heart problems, etc but frankly who gives a shit it's the steamy noir pot-boiler side of things that's worth watching here.
More Info: IMDB
|
Cheating Notes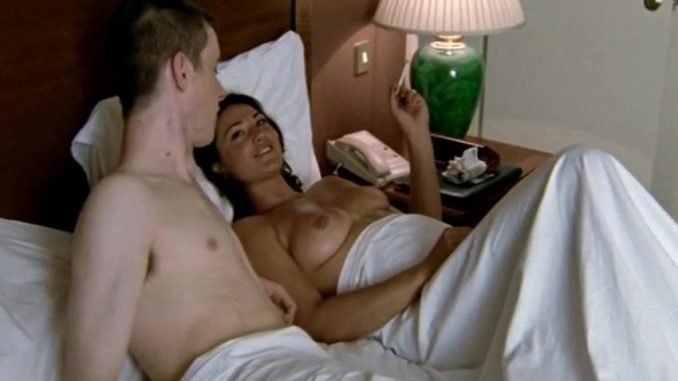 In part 1 of this two-part tv movie, Danny's parole officer and his wife come to the restaurant to celebrate their wedding anniversary. When the couple goes to the kitchen, the wife gets into a flirty moment with Danny which involves him putting a piece of salami in her mouth using his hand (11:24).
A waitress spills food on the wife's dress. She comes to the bathroom to wash, but the soap dispenser is not working. So she goes with Danny to the restaurant's storeroom where there's some cleaning stuff. Danny wipes the stain on her dress, they talk, flirt and they fuck, with the wife leaning against a rack while Danny bangs her from behind. They're clothed but it's still a sexy fuck.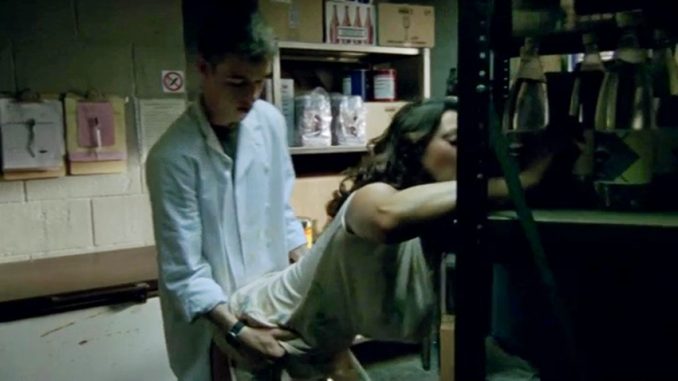 At 57:32, Danny and the wife meet and fuck in a hotel room. This time, we see the wife's naked upper body as Danny eats her pussy under the sheets.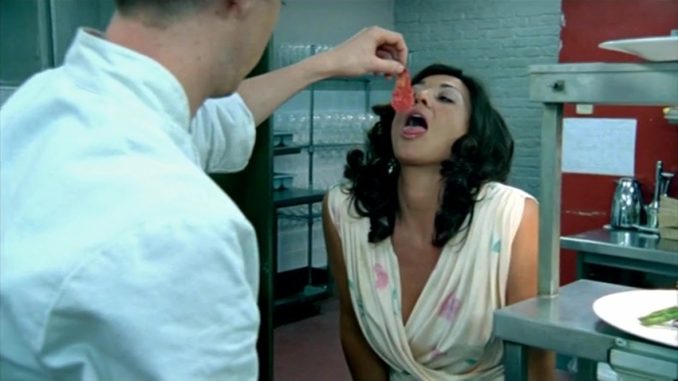 The wife calls Danny and tells him to come to her house that night or she'll tell her husband about their affair. Danny comes to the house, expecting a fun time with the wife. He kisses her immediately in the hallway of her house (1:11:20) but is surprised when he finds her husband waiting for him in the dining area. It turns out that the wife is trippin' and the husband is instead expecting Danny to cook for them that night.
Summary
Hot.

More Info for Kitchen (2007)
---
---
---