---
Susan, an American girl from Kentucky, inherits an ancient ruined castle and a village in the province of Arezzo from her grandfather who is a duke. Her arrival in Italy, however, is not well appreciated by the residents of the village whose property and livelihood they do not want to be taken away from them. Although the villagers are lined up against her, Susan has no intention of giving up, finding herself at odds against the young lawyer Nilde who is engaged to the farrier Vasco. Love will soon form between Vasco and Susan.
|
Cheating Notes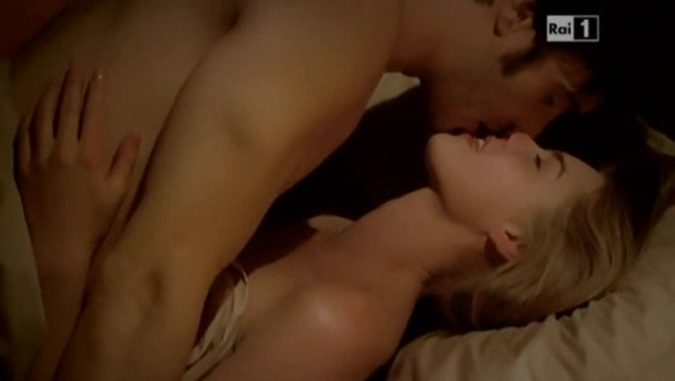 Susan, an American girl from Kentucky, comes to Italy to claim her inheritance: a castle and a village. There, she cheats on her geeky, bespectacled, lawyer boyfriend back home with Vasco, a studly farrier. Things develop between them and he tries to kiss her at the end of episode 1. She stops him, not because she doesn't want to kiss him but because she wants them to take care of some business first. They finally kiss and have sex in the second episode at around 26:40. Their sex scene is short and tame. Susan is naked but with covers on her body.
Someone tells Susan and Vasco that they could be related, like Vasco is also the grandson of the duke or something. So that means that they are really closely related. Susan cries and tells Vasco that they should never see each other again.
Susan's boyfriend follows her to the village. Aside from helping her with her inheritance problem, he also comes there to propose to her. She tells him that they should talk about marriage only after they return home to America. He wants to have sex with her one night. She takes her time inside the bathroom, recalling her kissing and sex session with Vasco at one point, so that her boyfriend will fall asleep and therefore, she doesn't have to fuck him. Her plan succeeds and she's delighted.
In the end, the main characters and some other people gather inside an office. It is revealed that Vasco is not related to Susan at all. Susan tells Vasco that it means that they could love each other without impediment and proceeds to come close to him and they hug and look at each other's eyes. She did all of those right in front of her boyfriend, seemingly not caring about his feelings at this point at all. Needless to say, she dumps her poor boyfriend and marries Vasco and we see them together with a child in the final scene of the movie.
Susan (Vanessa Hessler) is one hot, pretty babe.
More Info for La ragazza americana (2011)
Info + Torrent Download Link: Zoogle.com
English Subtitles: Opensubtitles.org
Watch Clip
Note: The sex scene here is almost completely removed so only a small part of an already short scene is retained. Better download the full two episodes in the zoogle,com link above.
---
---
---