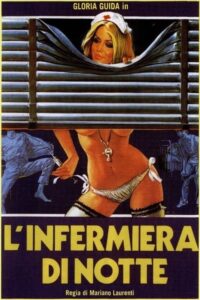 ---
Banfi is dentist Nicola Pischella, married to Francesca Romana Coluzzi and cheating on her within the first five minutes with Paola Senatore. Alvaro Vitali plays the assistant dentist, Peppino. Nothing new so far. Word comes by telegram that rich uncle Alfredo (Mario Carotenuto) is coming over to visit and change his last will and testament. But Alfredo is actually a thief in disguise, there to find a diamond hidden amongst the chandelier 20 years earlier. Pretending to be extremely ill, now all he needs is a nurse to care for him at night. So Lino hires the granddaughter of one of his clients, Angela (Gloria Guida).

Meanwhile, Nicola's son Carlo (Leo Colonna) is being stalked by a lonely boxer's wife (Annamaria Clementi) living downstairs, while falling for Angela at the local disco. The silly boy is kept in the dark about her night job, being too busy studying for his medical exams in the next room. Nicola starts to lust after Angela himself (while wooing her for his son at a restaurant in a rock) as if having two women to please weren't enough.

Carlo and Angela enter a dance contest and get Peppino to fill Guida's little nurse's outfit in her absence. Naturally, the same night Nicola tries to make his move and 'uncle Alfredo' makes a final grab for the diamond. This summary may sound like the same old cockamamie as usual, yet "L'Infermiera di Notte" somehow manages to outgrow the sum of it's parts. This is mainly thanks to the great ensemble cast of Italian regulars, including three beauties in various stages of undress (compared to the usual one). Even Guida's disco number 'La Musica è' (an instrumental version of which runs through the entire film as the main theme) worked for me. Must have been the mood I was in.
|
Cheating Notes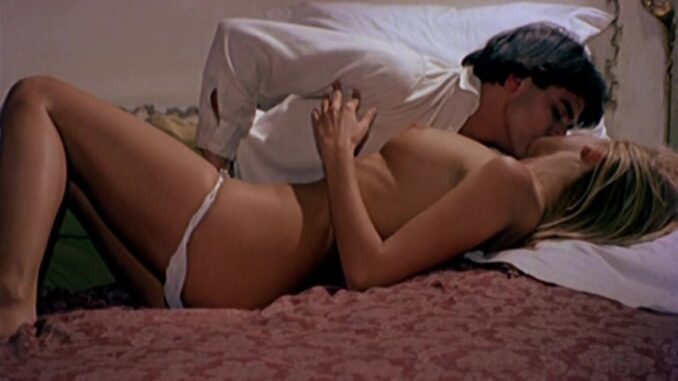 5:06 The boxer's wife who lives downstairs from the dentist Nicola's place, waits for Carlo, his son, at the stairs. Her robe is halfway open at the chest so Carlo can see one of her breasts. She pulls him inside her apartment, calling him doctor (he's not) and asking him to examine her physically, guiding his hand to her butt and letting him caress it, etc. When she goes to the other room to get an ointment, Carlo sees the picture of her husband on the wall and realizes that he's a boxer. When the wife comes out of the other room, she has taken off her robe completely but Carlo has already bolted out of there.
24:46 The wife intercepts Carlo at the stairs again, this time wearing a blue shirt and panties. She asks him for help with her plumbing and pulls him inside her apartment. While he is fixing her pipe (it's just turning a knob located at a high spot), she takes her shirt off and when he turns around, she starts hugging and kissing him. Carlo gives in, lays her on the table and starts making out with her. But a flushing sound from the toilet makes him stop. Apparently, it's the wife's husband who made the sound but she says not to worry because he just usually goes back to bed. That doesn't stop Carlo from leaving.
54:50 Carlo comes across the wife at the stairs again. She pretends to be throwing the trash and this time she's really naked. She pulls him inside her apartment and into her bedroom and starts making out with him. He takes his shirt off, lays her on the bed and starts making love to her. They are interrupted by a knock at the door. It's the boxer husband's coach and he is carrying the husband who is still unconscious from getting knocked out from his fight. Carlo has to leave again.
1:19:10 Carlo fucks the gorgeous Gloria Guida, who is now his girlfriend at this point.
Watch Full Movie Online
---
---
---