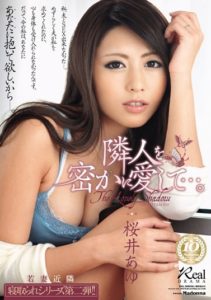 ---
The movie revolves around Ayu Sakurai as she cheats with their neighbor next door.

Scene 1: The neighbor tries to have his way with Ayu in the hallway, fingering her beneath her skirt.

Scene 2: The neighbor forces himself on Ayu once again until they are interrupted by a phone call from the husband, they resume as she gives him a blowjob and they continue fucking in different positions, the scene ends as he finishes inside her mouth.

Scene 3: The neighbor fondles Ayu in the kitchen and brings her to the sofa as he eats her pussy.

Scene 4: The husband and Ayu are both performing oral sex on each other while the neighbor watches from the window. In the end, Ayu sees the neighbor and masturbates in front of him between the glass.

Scene 5: Ayu completely gives in to her desires as she seduces the neighbor, the scene starts with oral sex in a storage area and continues with different positions in a bed, the scene ends with the guy blowing his load on her mouth as she sucks him off.
|
Cheating Notes
Watch JUX-273 Online
Javengsub.com (with English subs) | Spankbang.com
---
---
---