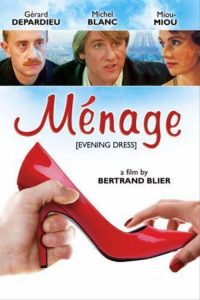 ---
A bisexual petty criminal named Bob encounters a married couple arguing in a bar. Bob breaks up the fight and proceeds to seduce first the wife and then the husband. Then Bob teaches the couple how to be burglars and they join him in his criminal exploits.

If you're renting Ménage for your evening movie, you're probably expecting exactly what the title promises. Good news, you'll get it! In this French flick, Michel Blanc and Miou-Miou play an unhappily married couple who get drawn into a darker life by thief Gérard Depardieu. Not only does Gérard introduce them to the thrill of robbing houses, but he also manages to get both of them in bed.

I don't know if this movie was taken seriously back in 1986, but watching it now feels a bit silly. It's very sensationalistic, almost like it's making fun of the story. They never get arrested for their robberies, and in one scene, they don't even get in trouble when they're caught because the lady of the house decides she'd rather sleep with Gérard than press charges. In another scene, Gérard and Miou-Miou are caught in bed by Michel, and all three of them have a conversation without any cease-and-desist, if you know what I mean.
|
Cheating Notes
Watch Full Movie Online
---
---
---