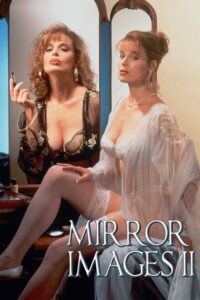 ---
Shannon Whirry stars as Carrie and Terrie, a pair of twins who were separated in youth when their father murdered their mother and was in turn killed by his own bad twin daughter. Now the sweet-natured "good" sister has grown up to marry an abusive louse. Trapped in a sexless relationship, she seeks solace with a therapist (Kristine Kelly), but her problems are about to be compounded when her wicked sister arrives in town, intent on avenging herself on her double for past wrongs. Even the help of a private detective on her side may not be enough when her sister becomes allied with her own husband.
|
Cheating Notes
6;15, 23:52 Small flashback scenes of Carrie and Terrie's father shooting his wife and her lover while the two are making out. Also shown in other stages of the movie.
25:20 Carrie (?) seduces her female psychiatrist, says she's attracted to her, and has sex with her on the couch.
30:00 Carrie (?) seduces her maid's handsome husband. They fuck on the pool.
Sometime later, Carrie is confused when the female psychiatrist and the maid's husband confronts her about her trysts with them. It turns out that it was Terrie, her twin, who made love to the two while pretending to be her.
1:00:42 Carrie goes to Terrie's place. Her husband, who has connived with Terrie, finds her there and thinks she is Terrie so she goes along and pretends to be her twin. Her husband has brought a female prostitute as a gift for her (Terrie). Carrie goes along and has sex with the female prostitute in front of her husband.
1:08:00 Jake, the private detective that Carrie hired, talks to Terrie and pretends that he wants to join them in scamming Carrie. Terrie seduces him and they have sex.
1:15:00 Terrie, pretending as Carrie, comes to Jake's office, seduces him and has implied sex with him. Jake thinks that he made love with Carrie.
1:26:55 Carrie has sex with jake, but her husband is dead at this point.
Watch Full Movie Online
---
---
---