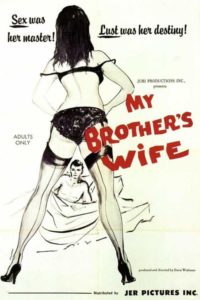 ---
A man's wife starts having an affair with her brother-in-law, who is temporarily staying at their apartment.

Doris Wishman sexploitation flick about a bored woman who marries an older, boring husband only to end up having an affair with his much younger, low-life brother.
|
Cheating Notes
The first time I saw Mary (wife of my older brother), I knew there had to be trouble. All I can remember is that even then I wanted to take her in my arms.
More Info for My Brother's Wife (1966)
Info + Download Link: Rarelust.com
---
---
---