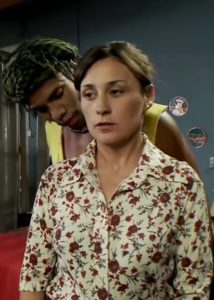 ---
Maida and Nolsen are a couple of backpackers who comes to the married couple Camilo and Santa's bicycle shop for spare parts. Immediately, Camilo gets attracted to Maida and gets lucky with her when the four of them go camping together. Unknown to him, his wife will also be tempted by the pleasures of the flesh.

An episode in the Infieles TV Series.
|
Cheating Notes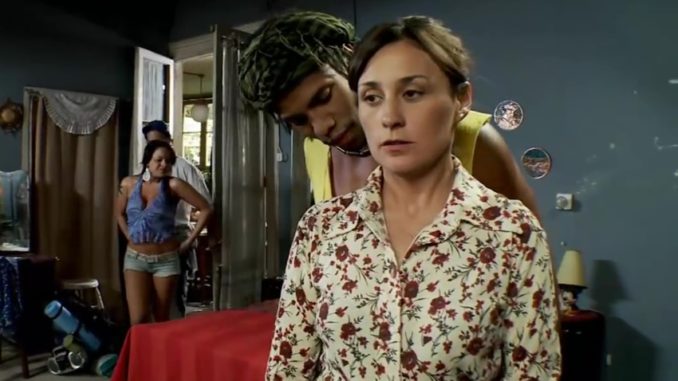 Backpackers Maida (a busty babe) and Nolsen (a black guy) comes to the married couple Camilo and Santa's bike shop to buy some spare parts. Santa is immediately attracted to Nolsen and Nolsen is attracted to her too. Camilo doesn't want to serve Nolsen initially but when he sees his attractive girlfriend, Maida, he changes his mind and even lets the couple stay at their house overnight.
Maida is crying in her room and Camilo consoles her. They go down to his shop downstairs where he demonstrates to her how to use a seat with a hole in it. The demo includes her sitting on his lap and humping up and down a few times. Their spouses come down and catch them but Camilo is able to talk his way out of it.
The four end up camping together. While Nolsen and Santa are sleeping, Camilo follows Maida away from the camp when she gets up and pees in the middle of the night. They flirt and Maida makes the first move by kissing him. They have sex.
Nolsen, meanwhile, wakes up and comes inside the tent of the married couple. He only finds the sleeping Santa inside. He starts kissing her. She wakes up, resists initially, but eventually starts having sex willingly with him.
Maida shows us her two boobs, while wife Santa lets us get a peek at just one of hers (Nolsen gets to suck it a bit).
Watch Full Movie Online
---
---
---