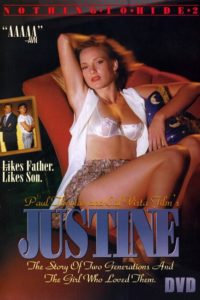 ---
Justine takes a lover, exploring her fantasies with him, never realizing that he's actually her boyfriend's father.
More Info: IMDB
|
Cheating Notes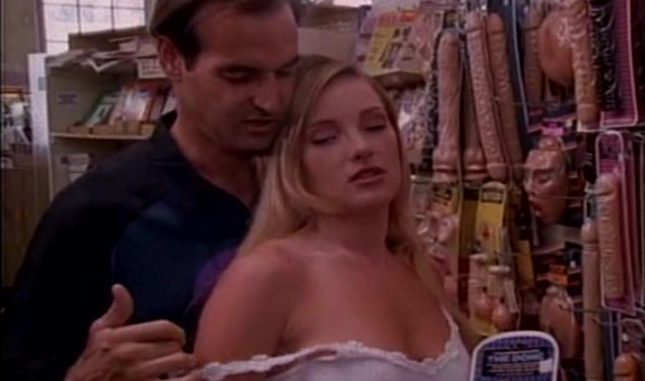 Summary
One of those porn films with a bit of a plot and some drama, which makes it good, because a good drama is what separates good erotic cheating sex scenes from mindless, boring ones.
So pay attention to the dialogues and scenes that are in between the sex scenes to better appreciate this movie. I think I'll add this to my short list of favorite cheating porn films.
Cheating Scenes
Davy, the son, goes away on a work trip. He and Justine do it first before his flight.
Justine meets her boyfriend's father
Justine meets Simon, Davy's father in the dirty bookstore that she's currently working at while she is researching a magazine article on porn patrons. She's not aware that he is her boyfriend's father. He's shopping for a cock ring after he can't get his dick up while doing it with a chick. Sexual tension is high between the two while she helps him choose a cock ring. In the end she tells him that he doesn't need a cock ring but a good fuck. He asks her, "Is that an invitation?" while smiling. She replies that she's only kidding, that she's not that kind of girl and that she has a boyfriend.
The next day, Simon comes back to the store. She helps her choose some sex toys. He claims that it's for a female friend, but gives a sign that he's talking about Justine when he asks her "I'm not sure what my friend likes. Why, what do you like?" So Justine begins choosing the toys that she prefers. Their sexy banter ends at the back of the store, with him standing behind her, pulling down a strap in her blouse which exposes her breast, and inserting a hand in her pants. He asks her out. She says no at first because she tells him that she has a boyfriend, but his little fingering session with her changes her mind.
Justine fucks her boyfriend's father
The two proceed to have a date in a restaurant that he owns. They have the place all to themselves. They skip dinner and proceed to fuck on top of a table. She gets a bit mad when he cums too early. She refuses to see him again because she feels guilty and repeats to him that she has a boyfriend.
Justine and Simon meet again at his restaurant. When he asks her why she decided to see him again, she tells him it's because she shouldn't have (since she has a boyfriend) and because he's dangerous for him. He watches her use a dildo on herself. They go to the back of the restaurant and fuck.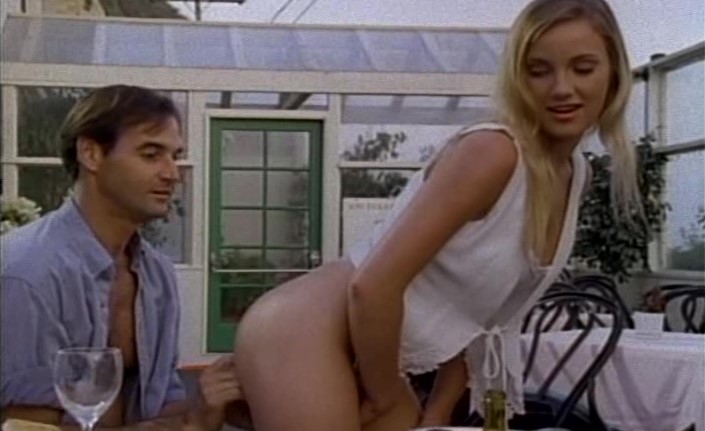 While they're having breakfast, the idea of swinging comes up and Justine asks Simon if he would like her to fuck another man for him. She says she would do it if there are women in it so that it will be non-threatening.
Justine finds out that Simon is her boyfriend's father
Simons calls his son Davy at his place. Justine answers since she lives with Davy. She recognizes Simon's voice and hangs up. She realizes that the guy she's cheating with is her boyfriend's father. She meets Simon later but doesn't tell him about it.
Simon brings Justine to a swinging party
Simon and Justine go to a swingers party that involves two other couples. Simon talks to one of the husbands while he watches Justine get it on with the other women. I like what he said to Simon about his own wife:
"After you fuck her and cum in her, that's when I like to fuck her the most. I love the feeling when I slip my cock in her pussy... feel how slick it is from another man's cum."
Simon expresses to the husband that he doesn't want other men to fuck Justine, only women. Sure, the husband says, and they continue watching Justine and the other two women. But later, the two husbands join the girls. Simon looks uncomfortable when one of the guys inserts his dick into Justine's pussy from behind. It's erotic watching him get jealous and bothered while he watches his girlfriend (and his son's girlfriend) getting banged by the guy.
After the sex session, Simon asks Justine why she let the guy fuck him. He slaps her as a punishment and they're good again after that.
Simon admits to Justine that he loves her. Her mood changes since this is her boyfriend's father who is admitting his feelings for her. They end up arguing, but eventually, she tells him that she really does love him too.
Justine's boyfriend introduces his father to her
Davy comes back from his work trip. Simon visits him during lunch and gets the surprise of his life when the girl that his son introduces to him as his girlfriend is Justine. Both father and girlfriend keep mum on it while they have lunch with Davy.
Simon and Justine meet in his place and talk. He asks her how she could do it, hooking up with him when she knows that he is her boyfriend's father. She tells him that she didn't know it at first. They still end up cuddling and making out beside the pool, with Justine naked and laying on top of Simon. They probably had sex, their last one before she makes a decision about father and son.
More info for Nothing to Hide II: Justine (1993)
Info + Download Link: Rarelust.com
Watch Full Movie  Online
---
---
---