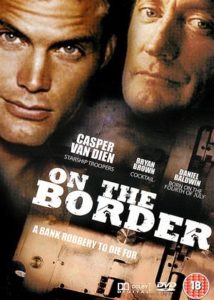 ---
Jake Barnes is a security guard in a Texas border town bank. His boss asks him to spy on his sexy wife with whom Jake is having an affair with. When he meets Danish girl Kristen, he gets caught up in a plot to steal millions of dollars of laundry money. Jake is caught between two women who want to become his partner in the theft. When the time comes for the robbery, a furious gun battle ensues that follows double-cross after double-cross.
|
Cheating Notes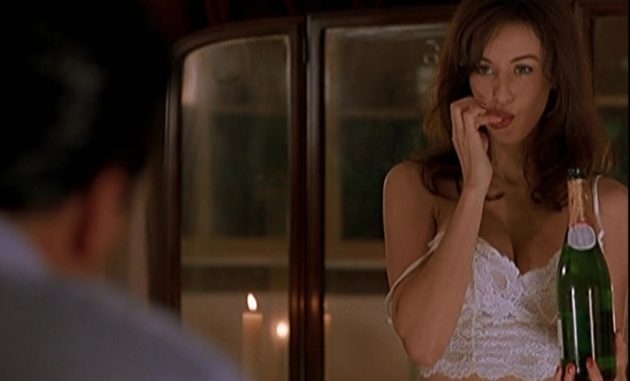 I believe someone is fucking my wife and I'd like to know who he is..
One day at the bank, Rosie, the bank manager's wife, comes out of her husband's office, all looking sexy in her red dress and flirtatious in her smile. A rambunctious client of the bank notices her hotness but her eyes are set only on Jake, the studly security guard, because she is already in an affair with him. The husband calls Jack into his office and tells him that someone is banging his wife and he wants him to tail her to find out who. After their talk, the scene shifts immediately to Jake and the wife fucking in a hotel room just outside the border.
A little later in the movie, Jake and the wife meet again at a hotel. But we see them just kiss on the bed post-coital, with her already dressed up.
There's a scene where Rosie seduces her husband. She is wearing a sexy lingerie and crawls towards him on all fours. Then, she opens a bottle of wine in front of him and proceeds to lick the wine from her finger while looking seductively at him. It's a very sexy scene. It doesn't proceed to them having sex, but it doesn't matter, the fap value is already all there in the wife's seduction act.
Kirsten, meanwhile, is another female character sent by her abusive boyfriend (well she is his mistress, actually, as it seems that he has a wife) to seduce and fuck Jake so that they can lure him to join their heist. Jake joins them without her needing to fuck him, but she fucks him anyway because she wants to. In a few scenes, Kirsten's boyfriend shows his jealousy because of her growing feelings for Jake.
A plot twist at the end may change the cheating angle.
Summary
The wife is seductive and has an outrageously voluptuous body. Sure, her boobs might be fake, but certainly not the rest of her curves.
Her cheating scene with the handsome security guard is fine, I guess, as she rides him really hard. But the scene where she seduces her husband is a lot sexier, with her crawling on all fours towards him and then licking wine from her finger in front of him while wearing a sexy lingerie.
More Info for On the Border (1998)
Info + Torrent Link: Torrentz2.eu (Webrip, English Language, HD, Widescreen. Great copy but bottom and top are cropped so some parts of the wife's naked body are cropped out in some scenes)
Watch Full Movie Online (Russian Dubbed. 4:3 aspect ratio but this seems to be the original aspect ratio of the film)
---
---
---