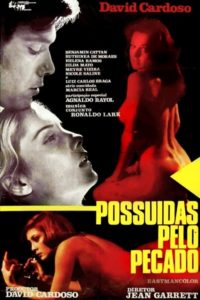 ---
Dr. Leme, a rich old man, is frustrated about not having children with his wife Raquel. In his mansion, he gives parties filled with drinking and sex with his secretaries. André, his driver, becomes the lover of Rachel and they plan to kill Leme to get hold of his fortune.
|
Cheating Notes
IMDB Review
In São Paulo, the ambitious gambler André Albino de Souza (David Cardoso) is the driver and assistant of the wealthy alcoholic entrepreneur Dr. Leme (Benjamin Cattan), the owner of the Empresas Leme Reunidas. André is also the lover of the estranged wife of Dr. Leme, Raquel (Meyre Vieira). Dr. Leme is a frustrated man since he does not have a child with Raquel and he has two mistresses, his secretaries Jussara (Zilda Sedenho) and the alcoholic Anita (Helena Ramos) that has become addicted in booze by Dr. Leme and now is abused by him. They spend most of the time in a small ranch in the countryside and Dr. Leme brings the nightclub painter Marcelo (Agnaldo Rayol) to stay with them for a period. The maid Isaura (Ruthinea de Moraes) lives in the house with her daughter Dora "Dorinha" (Nicole Puzzi, a.k.a. Nicole Woodward) that has a crush on André.
Raquel convinces André to kill Dr. Leme. The plan is to drown him in the swimming pool, simulating an accident since he is drunk most of the time, and travel to Europe as an alibi. Meanwhile Dorinha seduces André and has sex with him. But soon she finds that she got pregnant and schedules with André to have an abortion. When André is ready to set in motion the scheme to kill Dr. Leme, he learns that Raquel is a manipulative woman and has a lover in London. André changes the plan and plots a scheme with Dorinha to use Dr. Leme's drunkenness. They need a child to convince him that she had one nightstand with him and got pregnant. The plan works well until the day Raquel invites Anita to visit her.
Watch Full Movie Online
---
---
---