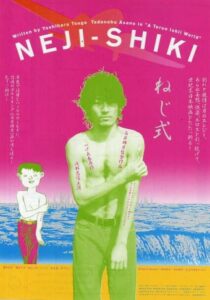 ---
Convinced that his girlfriend is unfaithful, a manga artist (Tadanobu Asano) sets out on a strange odyssey across Japan.

It has been two years since unsuccessful cartoonist, Tsube (Asano), started to live with Kuniko (Fujitani) casually in a small apartment. They are in the depths of poverty and can no longer pay the rent. As a result, they are forced to leave the apartment. Kuniko manages to find a live-in job and starts to work at a company dormitory as a cook. On the other hand, Tsube, being in a pitiful state without a penny to his name, winds up crashing at his friend, Kimoto's (Kanayama) place known as "Taihei Apartment" where Tsube himself used to live. One day Kuniko visits Tsube at the apartment while Kimoto is out. Tsube secretly tries to steal some money from Kuniko's purse and surprisingly finds a condom instead. He starts to suspect her infidelity. He imagines Kuniko having an affair with another man while reminiscing about his experiences with her. Eventually he discovers that she has been unfaithful and tried to kill himself by overdosing on pills. He wakes up in the hospital, where, lacking money, he is discharged. Despondent he decides to go to the mountains to keep himself distracted from his disconsolate feelings of Kuniko. He runs across a local girl, Chiyoji (Tsugumi), and becomes fascinated by her local dialect and follows after her to the bar she works at. At this point the film becomes increasingly surreal, with Tsube having more and more alienated erotic experiences, culminating with him staggering wounded across a beach, desperately searching for a doctor.
|
Cheating Notes
There are several nude/sex scenes in the movie, but none pertaining to the cheating girlfriend (or wife, according to some scenes but these scenes could just be imagined by the boyfriend). After seeing the condoms in the girlfriend's purse, the boyfriend thinks that she's cheating and that her lover is someone whom she had a crush on even before they met.
This part, where the couple treats themselves as married based on their dialog, could be just an imagination of the boyfriend. The girlfriend comes across her crush and invites him to her and her boyfriend's (or husband's) place. She and her crush have an interesting dialog in front of her boyfriend (with his back turned on them) where, among others, she is telling him about a chick who fucked her ex-bf right next to her sleeping husband. The guy then sleeps beside the couple that night, with her in the middle of the two guys. It seems that nothing happens, but who knows?
The girlfriend's lover turns out to be a customer at the book shop where she used to work as admitted by her.
Watch Full Movie Online
Film1k.com (with English subtitles)
---
---
---