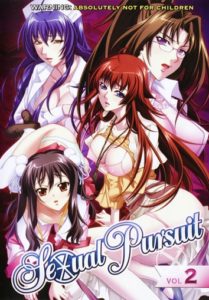 ---
I'm Makoto. My father is always busy with his business. I don't remember my mother because she died when I was a kid. I now live with my older sister. One day, a new mother and younger sister join us all of a sudden! Of course, I'm happy. I masturbate hard every day like never before, but a mishap happens to me. I get involved in a traffic accident and am sent to the hospital where my longtime friend works as a nurse. Also, my friend is hospitalized there. Oh, I'll become friends with them using the game given by a strange salesperson...
|
Cheating Notes
This is the second in the Sexual Pursuit series (note: It's hard to put Sexual Pursuit 1 in the cheating category because there is no indication that the stepmother there still has a husband. Maybe she is already a widow). This version moves the game from being a board game to a video game. The premise is that we have four people who find themselves in a hospital room where they have started playing a video game that was given to Yuna. Along with the loli character Yuna we have Makoto in the male role, his older sister Misaki and his stepmother (and mother of Yuna) Natsuki. Once the game is started they find themselves unable to leave the room, call for help or stop the game. The game will only end when the goal is reached, and each move forces the family to engage in increasingly more erotic sexual activities beginning with a simple massage and kissing all the way up to sex.
We are of course interested in Natsuki, wife of Daisuke and stepmother of Makoto.  At one point, she partakes in sucking Makoto's dick alongside her daughter. She also gets fucked by Makoto.
Watch Full Episodes Online
Alternative source: Episode 1 | Episode 2
Episode 1
Episode 2
---
---
---