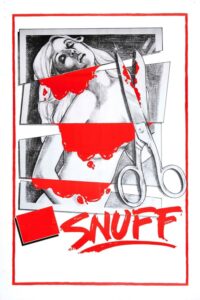 ---
Actress Terry London (Mirta Massa, Miss International 1967) and her producer boyfriend Max Marsh visit South America. She gets pregnant by another man and a female-filled biker cult led by a man named Satan stalks and murders her.

Snuff is set in Argentina where American actress Terry London (Mirtha Massa) has just landed with her film producer boyfriend Max Marsh (Also Mayo) where they intend to make a film with Terry as the star. Terry wants to keep Max sweet as it's her big break but she meets up with her lover Horst Frank (Clao Vaillanueva) who has two girlfriends on the go, both Terry & weirdo cult member pothead Angelica (Margarita Amuchástegui) who is in fact under the complete control of cult leader Satan (Enrique Larratelli) & has been sent to seduce Horst & have his baby for no real apparent reason. Eventually the cult members under instruction from Satan himself decide to dish out some justice to Horst & his adulterous friends...
|
Cheating Notes
Terry is in a relationship with her producer Max and cheats on him with her lover Horst when they come to Argentina for a shoot. Someone kills Max and Terry starts living with Horst in his father's mansion.
Horst has a friend who shares his wife with him. He wants to watch but Horst doesn't want him to so he has to climb some roof so that he can secretly watch his wife and Horst have sex. The cult members get to them and kill them.
The cult members go to Terry's bedroom and we see her sleeping in bed with Horst's father beside her, implying that they have a sexual relationship.
Watch Full Movie Online
---
---
---