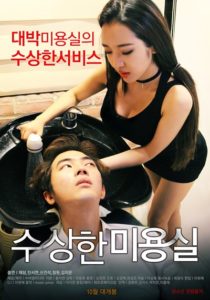 ---
Owner Pink and employee Mina have been running their hair salon for a while but their business isn't picking up, so they attract male guests using the sexy concept: they let the boys run their hands a little on their bodies, let them take a view of their female parts, etc. while they fix their hair. Meanwhile, Mina asks her lover, Oh Tak-gu, to promote the salon in his workplace. Byun-joo, Oh Tak-gu's boss, shows interest in both Pink and Mina, and suggests to Oh Tak-gu that they should do a trip together with the two ladies.
|
Cheating Notes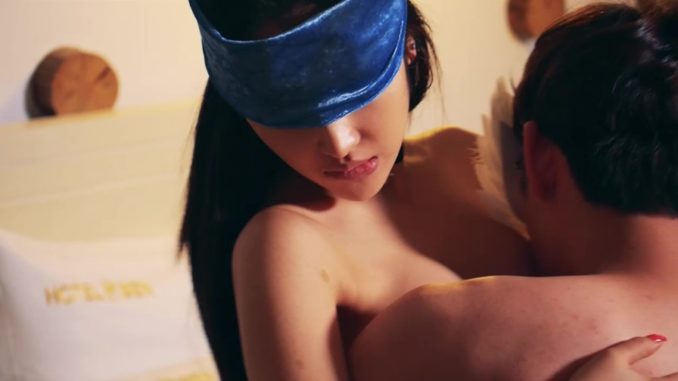 Note: Watched without subtitles
Mina has a boyfriend, Oh Tak-gu (nerdy-type guy with glasses). I'm not sure what kind of relationship they have, though, whether it's serious or otherwise or maybe it's just a sex relationship that arose from him being a client of the salon. We see her get frustrated when he cums prematurely while they are having sex in a bathroom.
Oh Tak-gu's boss, Byun-joo is an asshole and the domineering type. They talk one day in the rooftop of their office building. I'm not sure what they talked about, but a few days after that, Mina gets fucked by Byun-joo in a hotel room. When he comes into the room wearing a mask, her back is against him while she is lying on the bed. She asks, "Tak-gu si?" or something like that, meaning she must be expecting Oh Tak-gu. Byun-joo blindfolds her before she can see him, and then proceeds to fuck her. So Mina basically does not see who fucks her.
I'm guessing maybe the two guys had an agreement in the rooftop that Byun-joo will fuck Mina pretending that he is Oh Tak-gu, with Oh Tak-gu being reluctant about it based on his body language while they talked.
Now does Mina have an idea that it is Byun-joo who fucked her? Well there's a scene after their sex indicating that she might have come to that conclusion. She sits on the bed and starts doing a monologue, like she is saying that it couldn't be Oh Tak-gu who fucked her because her boyfriend usually cums too fast, or something like that.
Meanwhile, while Mina and Byun-joo are fucking, Oh Tak-gu comes to the home of salon owner Pink and woos her. She rebuffs him at first, but they talk and come to some sort of an agreement about something and she willingly fucks him on the couch.
Mina and Oh Tak-gu's boss fuck again at her place and she is not blindfolded this time. So that means she clearly knows who she is fucking now. Oh Tak-gu arrives and secretly listens to their conversation from outside the room. He becomes saddened based on what he hears from the two and leaves without announcing his presence.
Mina, Pink, Oh Tak-gu and Byun-joo go on a trip somewhere. I think it's the boss' idea so that he can fuck Pink. Mina and Oh Tak-gu take a walk in the woods where he tries to choke her (probably has something to do with her wanting to leave him because of Byun-joo). He forces herself on her. After their sex, Mina breaks up with him and gives him her panties as a remembrance.
Meanwhile, Byun-joo fucks Pink in the cabin. Later that night, Mina puts a sleeping pill on Pink's drink, making her doze off while she fucks Byun-joo. Oh Tak-gu doesn't join their drinking session, but sneaks in to fuck the sleeping Pink (or that could just be in Pink's dream).
Watch Full Movie Online
---
---
---