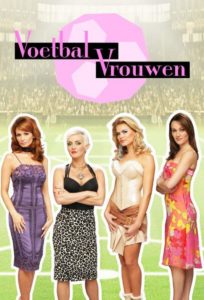 ---
Four Dutch soccer stars' wives stand by their man, as his success determines her life and some's children's. But often they rather complicate all their lives.
|
Cheating Notes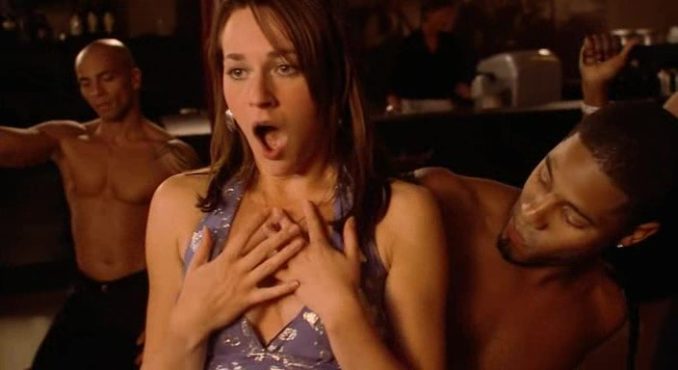 Summary and Recommendation
The best episodes would be Season 1 Episode 5 + Season 1 Episode 6 (father and son unknowingly swap wife and girlfriend), and Season 1 Episode 8 (bride getting banged by a black stripper in her bridal shower). Cheating scenes in the later episodes would be relatively tame, very short and has no nudity.
The cheating scenes between a billionaire's hot wife and a black dude starting at Season 3 Episode 8 could have been so much better but they lack sexiness and nudity.
A special mention would be Season 3 Episode 10, where a player's girlfriend tries to seduce another player and goes as far as making out with him but she gets rejected. This episode is sexy for me as I like sluts who pretend to be honest but still attempt to cheat.
Season 1 Episode 2
Coach Arjan Duivendrecht buys a horse riding school for his wife Liz and along with it a studly stable-hand Damian. Damian makes advances toward Liz which she always rebuffs. Damian gets tired of it and reveals to her that her husband told him to seduce her. Liz goes to her husband and starts kissing him on the couch, and when he rejects her, the next thing we see is a naked Liz on top of Damian in the barn. (she is naked, but we only see her back and the scene is very brief).

Season 1 Episode 4
Top scorer Jeffrey Woesthoff's wife Melanie uses her female charms to 'persuade' the club chairman in his office to keep hubby on a good spot. She lets the club chairman fuck her from behind while she leans on his desk (non-nude).
Liz has dinner with Rosanne, a young woman who learns to ride a horse in her riding school. They kiss after dinner.
Season 1 Episode 5
After his mother's funeral, 16-year-old Dylan moves in with his father Jeffrey and his family. It does not escape Melanie that Rowena, her stepson's girlfriend, shows a lot of interest in Jeffrey. She shows interest in Dylan as well.
Dylan compliments Melanie's outfit. She comes closer to him on the couch, with her cleavage in full display.
Melanie sees her stepson go in the shower. She pretends not to know and bring in fresh towels inside the bathroom. She gets to see Dylan naked.
Melanie seduces Dylan while she's in her swimsuit. We also see Rowena's (Dylan's gf) in swimsuit, showcasing a nice back view of her body. Melanie invites Dylan to their indoor pool.
Jeffrey shows Rowena some news clipping and pics from a photo album. They sit really close to each other and Rowena is in her swimsuit. Jeffrey becomes sad when he recalls something while looking at the photos. Rowena consoles him by kissing him on the cheek and hugging him. Melanie's sexy body is in full view while hugging her boyfriend's father in a standing position. Dylan sees them and thinks that something is going on between them. He walks back to the pool to where Melanie is. He makes an advance towards his stepmother and kisses her. She kisses him back. I guess Dylan uses what he saw earlier between his dad and his girlfriend as justification to make a move on his stepmother. The two make out but are interrupted when Rowena and Jeffrey come in to join them. Melanie swims away smiling.
Season 1 Episode 6
The episode starts right off with Jeffrey and Rowena kissing in the pool. Then followed by Melanie and her stepson Dylan making out in the living room. Next scene is Jeffrey and Rowena, still in the water, but this time making out without their swimsuits on. Then next is Melanie getting a condom from the drawer and running to Dylan. They fuck on the kitchentop with their clothes on. A kid comes in and interrupts them.
Jeffrey fucks Rowena on a tampoline with their clothes on. Melanie arrives. She doesn't catch them fucking, but she must have heard something in their conversation because she gets mad and walks away. She is being hypocritical in this case, because she is also fucking Dylan. I like hypocritical cheating sluts.
Melanie and Dylan have sex in the indoor pool naked. The kid (I'm not sure whose son he is ) who interrupted them earlier comes in and sees them doing the deed. He runs and tells Jeffrey in the living room and Jeffrey comes back with him to the pool. Jeffrey sees with his own eyes his wife getting banged hard by his son on the side of the pool. He walks away while his son, unaware of his presence, unloads his cum inside his stepmom. I like how Europeans handle infidelity, they just walk away without getting things violent. Later, Melanie and Jeffrey have an argument.
Season 1 Episode 8
Danny and Renske are going to be married. Danny's soccer teammates set up a stag party for him while their wives set up a bridal shower for Renske. Danny is set up with a hot bitch to fuck. She is down to her panties and they are already inside a bedroom but he doesn't fuck her and instead goes on a monologue about the importance of fidelity, etc etc.
Meanwhile, while Dylan is giving a speech about fidelity, his beautiful white wife is enjoying a black cock inside her at her bridal shower. Initially, she and one of the black male studs that the soccer wives brought to her bridal shower are dancing. Then, the guy leads her to a bedroom. A friend of Renske tries to stop them from going in but Melanie prevents her from doing so. So Renske ends up inside the bedroom with the black guy and has sex with him. The black guy doesn't get a full orgasm though as Renske comes to her senses and screams while he is pounding away on top of her.
The next day, Danny and Renske sucessfully get married without Danny realizing that a black cock was inside his bride's pussy last night. Renske cannot make love to Danny on their honeymoon night because of guilt.
Season 1 Episode 9
Everytime Renske tries to make love to Danny, image of the black male stud comes back to her mind so she can't do it with him. She confesses to him about what happened. Danny gets furious at first but he eventually forgives her, so they kiss and make up and she can finally make love to him again.
Season 2 Episode 4
Renske is bored to death with her husband Danny who is currently injured and cannot play. He just does yoga and ignores her attempts at seducing him. So when Gio, a new hotshot black guy in her husband's soccer team, comes to their house and invites them to go out to a bar along with their other teammates, she accepts it. Danny permits her but he doesn't want to come. Nothing happened in the bar for now though, Gio and Renske and the other players just share a drink, dance and have fun. But during her dance with Gio in which they are touching each other's bodies, Renske gives him this look that suggests she may have developed a taste for the black cock ever since she tasted it in her bridal shower.
Season 2 Episode 5
Dylan is now part of the soccer team. The team and their wives have a party in a yacht. A black team member makes his interest known to the white girlfriend of Dylan on the dance floor. She reciprocates his attention, subtly, and leads him somewhere more private where they fuck on a table top. Melanie sees them fucking and tells Dylan. Dylan confronts the black guy later and they have a fight.
Renske sees Gio making out with some chick in the deck of the ship. They also talk in the deck, which means more bonding time for them. Later at her home, while watching TV with her husband, she fantasizes that she and Gio are making out in the deck.
Season 2 Episode 6
Gio visits Renske and Danny's place. The couple argues later because Danny gets jealous.
An event on the beach is held where Renske is a host. When she calls on Gio to be recognized, the audience eggs them to kiss. He kisses her playfully on the cheek, then he pulls her down, cradles her in his arm and kisses her again, still on the cheek but it surely has an effect on her.
Later at dusk, Gio is jogging on the beach and Renske intentionally comes across his path. There's lust in her eyes when she looks at him. She trips him playfully, follows him on the ground, goes on top of him and kisses him. They start to undress, and make out while rolling on the sand. The scene cuts off but they surely have sex.
Season 2 Episode 11
Solange starts his revenge jealousy game on Italo, who has brought a sort of second wife (a black chick) to their home because she doesn't want to marry him yet. She starts flirting with a house mover/house decorator that the black chick brings in the house.
Solange calls Italo while the house mover is beside her on the couch to make him jealous. When Italo comes home, he finds the two on the bed and under the sheets. When he pulls the sheet out, it seems that the two had been making out. He throws the house mover out and makes love to Solange.
Solange is the ditziest and arguably hottest of the wives/girlfriends but she doesn't cheat until now even if she is an battered wife and her boyfriend has cheated on her several times. And this single cheating scene of her is a disappointment as we don't see her actually making out with the house mover.
Season 3 Episode 5
Kay, a make-up artist, is Danny's new girlfriend. Her secret past is that she did some porn films. She gives his porn director Alex, who's been blackmailing her for an unfinished porn film, a handjob and records it secretly as a counter-blackmail. When he requests her to suck his dick, she bites it and runs.
Season 3 Episode 6
Kate shows Danny the footage of her biting the porn director's dick to come clean.
Italo wants a threesome when it appears that Solange has kissed Roswita, girlfriend of Solange's brother. It ends up with Italo and Roswita having a private time together in a hotel, and Solange's brother, accompanied by her, barging in on the room and beating up Italo.
Season 3 Episode 7
Oksana, current club chairman and wife of billionaire Oleg, has a crush on Gio. She gets horny and moans even if he just gives her an innocent foot massage in the parking lot. She doesn't want to cheat on her husband (not yet) so she uses a dildo on herself in her office.
Season 3 Episode 8
Gio courts Oksana and brings her flower in her mansion. She tries to rebuff him but ends up kissing him in the stairs outside and fucking him inside. Sex not shown. While they are lying on the bed after sex, Oksana gets a call from her husband and she hurriedly ushers Gio out because her husband tells her that he is coming home.
Later at a club, they have sex in a standing position in a secluded spot.
Season 3 Episode 9
Oksana continues to dive into bed with Gio, and that doesn't seem to change when she learns that her husband Oleg has been abducted. They have sex in the club dugout and also in her mansion.
Season 3 Episode 10
Gio is kissing Oksana from behind while she talks on the phone with Solange.
Kay tries on some lingerie and she lets Italo watch to get his opinion. She pretends to be innocent, but she's actually seducing him. Danny comes in to the room and when he gets alone with Italo, he asks him what's up about him being alone with his girlfriend inside the room.
Later at a party, Kay leads Italo to a private room and starts making out with him. He is reluctant and rejects her because I guess he likes Danny and also because he loves his own girl Solange. This is erotic for me, since you think Kay is a changed slut when she abandoned filming porn and also you think she is a non-cheating slut when she was being honest to Danny about her porn director, but it turns out that she's not.
Italo finds Oksana and Gio making out in an office room. Oksana's husband, who is outside, hears the commotion. He comes in and sees with his own eyes that his wife is cheating on him with a black dude.
Info + Torrent Download Link: Torrentz2.eu
---
---
---