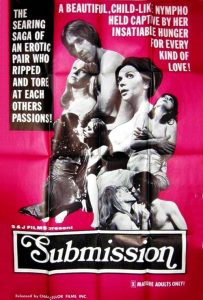 ---
Barry, a psycho sex fiend keeps his infantile wife Vicky in submission with candy bars, toys and, yes, hot wax. But when they plan on killing a wealthy lesbian, Vicky discovers she likes a woman's touch and plans a nasty surprise for her boneheaded husband!

Rape-happy psychotic sleazeball Barry (a nicely slimy portrayal by Gary Judis) keeps his infantile wife Vicki (an endearingly sweet and fragile performance by Joe Sarno soft-core film regular Jennifer Welles) in a pathetic submissive state by giving her toys and feeding her candy bars. But when Barry decides to murder a wealthy lesbian for her money, Vicki discovers that she has a genuine love for the ladies and turns on the creep. Director Allen Savage, who also co-wrote the suitably sordid script with Donald Stanley, relates the arrestingly warped story at a hypnotically gradual pace, does an ace job of crafting a dreamy'n'steamy carnal atmosphere seething with depravity and forbidden desires (the sight of Vicky groveling at Barry's feet for a candy bar is both startling and arousing), and uses a rather disjointed narrative style which gives this picture a slightly surreal vibe. Moreover, the abundant yummy female nudity and sizzling simulated soft-core sex provide a potent erotic charge. Better still, Welles' smoldering and ethereal presence combined with Vicki's disarming childlike personality really keep this picture humming throughout. Fred Murphy's crisp black and white cinematography and the mellow jazz score by 91 are both up to speed. Worth a watch for fans of aberrant 60's adults-only fare.
|
Cheating Notes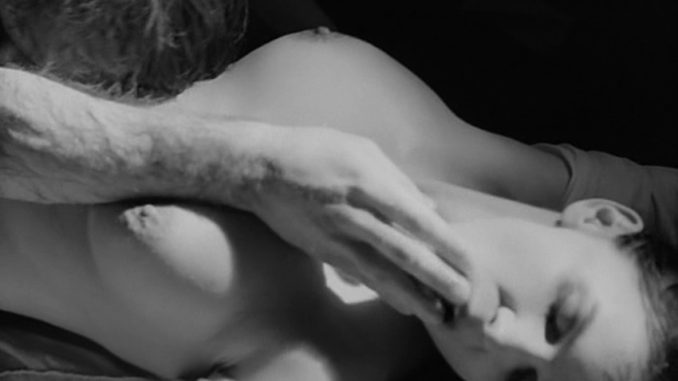 Vicky, Barry's wife, has sex with the wealthy lesbian at 1:03:50. That's after Barry tried to rape the latter. The sex scenes are artistically shot and are quite erotic.
---
---
---