---
Tae-joon (Lee Sang-hoon) and Seo-yeon (Park Min-kyeong) wrap up their city life and start over in a quiet countryside. Tae-joon is still learning how to farm and he hasn't had a decent harvest of fruits for several years. He gets stressed and blames the soil. Seo-hyeon suggests they accept a boarder to relieve his pressure. Hwai, A young woman, responds to their ad. She is a novelist who writes about her experience with another man. Unknown to Seo-yeon, she had an affair with Tae-joon in the past. She resented him but still loved him and couldn't get over him which is why she went all the way down there. She takes over the house which once used to be Tae-joon and Seo-hyeon's space. Hwai puts pressure on Tae-joon and provokes him by seducing Seo-hyeon's carpentry teacher Jae-rim (Kim Seon-hyeok). Hwai shakes up Seo-hyeon and tries to make Tae-joon hers while Seo-hyeon struggles to protect her family home.
More Info: TMDB
|
Cheating Notes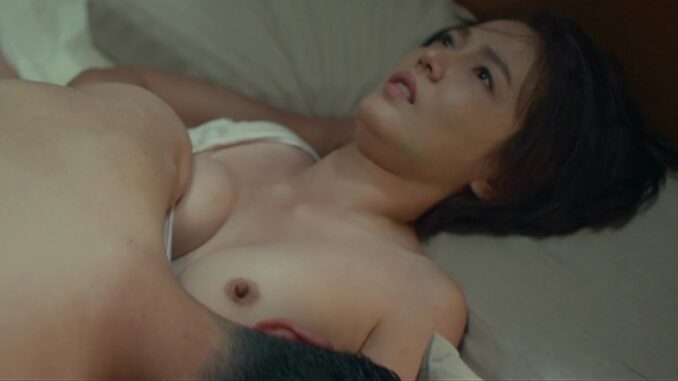 The husband's former mistress rents a room at the house of the couple in the countryside. The wife doesn't know about her, hence, allowing her to stay. The husband is reluctant but just one seduction attempt from the mistress and he's having sex with her again.
The wife starts getting private lessons from a local carpenter. He's a handsome man but it seems that she isn't doing it to fuck him. She just really wants to be able to create furnitures on her own. The husband is surprised when he finds out about this (from the carpenter first before the wife), but basically he allows it even if he really doesn't like the guy because he trusts his wife.
The mistress approaches the carpenter and makes him an offer: she will pay him to seduce and fuck the wife so that her husband has a reason to divorce her. He isn't clearly saying yes yet at this point.
The husband dreams of his mistress coming into their bedroom and then having sex with him beside his sleeping wife.  His wife wakes up, turns around and looks at him accusingly while he is on top of his mistress. This scene is initially presented as reality and not a dream so it's kind of exciting.
One night, the husband calls his wife and says that he'll be late because a friend invites him to drink. The wife takes a walk and somewhere down the road, she discovers her husband and the mistress fucking behind some bushes. She doesn't confront them and instead just cries and runs back home.
The carpenter hits on the wife for the first time while they are doing their class. Even though she already caught her husband cheating, she isn't in revenge mode yet and rejects him in an emotional way.
The mistress invites the carpenter over for a dinner with the couple to stir things up. Here, the carpenter talks to the wife in the kitchen, he apologizes but is still hitting on her. She gets mad at him and tells him that there's no dessert for him after dinner. The carpenter leaves with the mistress, and the husband gets jealous and imagines the two fucking in the carpenter's woodworking shop (but this scene could be real, though).
The wife finally decides to have her revenge. She goes to the carpenter's shop and tells him to fuck her. But it's the carpenter's turn to reject her this time, I think because of his conscience. WTF GUY???!!
The carpenter drives the wife home and then we are presented with a cliffhanger scene where it seems that he is about to kiss her, but a few scenes later, it also doesn't happen. A few moments later, her husband arrives, and thinking that the carpenter is inside his house fucking his wife, he grabs a knife and searches for him inside his home, but he isn't there because it seems that he really didn't fuck the wife.
Summary
It's a shame that the wife doesn't succeed with her attempt at revenge cheating because she's hot, in a next-door-pretty-wife kind of way. At least we see her get naked twice though, when she gets raped by her husband and when she steps into the shower. The sex scenes of the mistress with the husband, including their sex beside his sleeping wife in a dream sequence, and her imagined (or real) sex scene with the carpenter are pretty hot.
Watch Full Movie Online
---
---
---