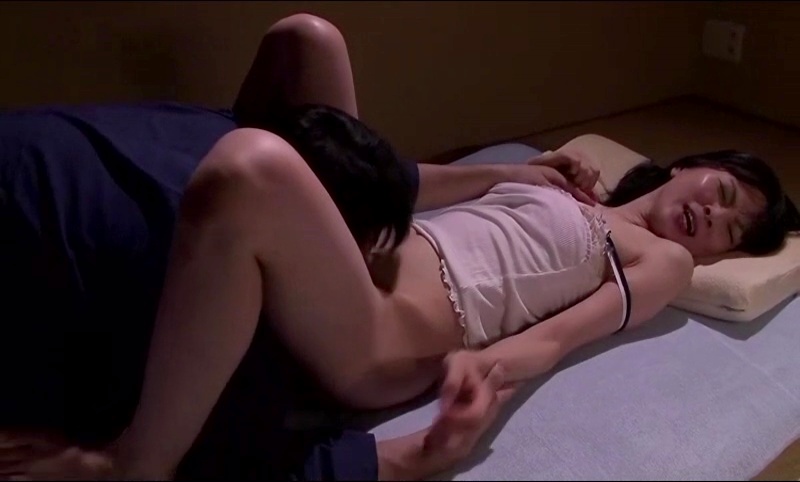 Description
Tomoko Yanagi is a loyal and dutiful wife, but her loyalty is put to the test when her husband's friend forces himself onto her one night right beside her passed out drunk husband. Will she scream to wake her husband up? Or will she suppress her moans so that her husband won't think differently of his trustworthy friend when he wakes up in the morning?
Details for the Jav RBD-448
Other Titles: Tomoko Willow … Been Fucked With A Sigh Endure Rape Character Of The River
Director: Kitamura Shousuke
Starring: Tomoko Yanagi
Genre: JAV
Country: Japan
Rape/Cheating Scenes in RBD-448
Note: Watched without subtitles.
The friend visits the couple at their home one day. They talk on the couch and I think it's agreed that he will stay with them for a while. The wife seems very comfortable with the friend. During the night, she stands really close to him as she fixes the clothes he is wearing. Her hands run all over his upper body, making sure that his shirt has no creases on them. She is also all smiles while she is talking to him. Now, I don't think that the wife is seducing the friend. She is just very comfortable with him, that's all. However, I think this is when the friend starts thinking lustfully about his friend's wife because he probably gets aroused with her standing so close to him and her hands are on his body, plus he can probably smell her nice perfume, too. The way he starts looking at her differently confirms this.
The husband and the friend drink on the couch. The wife, while not drinking herself, is cheering them on and clapping her hands while they are drunk-singing.
After drinking, the friend sleeps on the couch while the couple in their bedroom. The friend wakes up in the middle of the night, goes to the couple's bedroom and starts forcing herself onto his friend's wife. The wife is crying, very resistant and keeps on telling him no, but interestingly, the wife is suppressing her moans and does not scream to wake up her husband. Maybe she doesn't want a riff to start between the husband and his friend on account of her?
The wife isn't wearing any pajamas or shorts under the sheets, so the friend is able to easily remove her panties, but he doesn't bother to remove her silk shirt. He fingers her and eats her. He shoves his dick into her mouth and when she doesn't want to open it, he covers her nose so that she is forced to. He fucks her and comes in her belly. Nice for him not to come inside her, after all, she's still his friend's wife. All this time the husband is muttering loudly and moving a lot in his sleep, so the friend is wary at all times and looks at him every time he moves or speaks.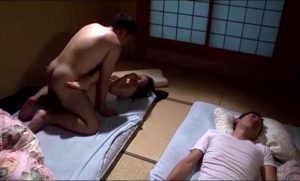 In the morning, the wife looks sad while speaking to her husband at the breakfast table. But obviously, she does not tell him about the rape or he would have gone bonkers. When the husband leaves for work, the wife sits there with her head down when the friend enters the kitchen. With their backs turned to each other, the friend talks to her in an apologetic manner. She responds to him. However, the friend can't control himself and starts raping her again.
He brings her to the couch and screws her. He makes her kneel before him to give him a blowjob. Amusingly, when his dick is out of her mouth, the wife is crying and really resistant. However, when it is inside her mouth, it seems she has no problem bobbing her head up and down so that she can give him a proper blowjob. The friend comes inside her mouth and she has to spit his cum on the couch.
The wife is seen talking to her husband again and it seems she still does not tell him about his friend. So the friend rapes her again in a different part of the house.
The three are wearing kimono and are talking around a low table. The wife looks upbeat and is smiling here, unlike the previous times she was talking with her husband. During the night, she leaves the side of her sleeping husband and comes inside the friend's room. They talk for a while, with her crying a bit. I think she's coming to terms with what he's done to her. He hugs her and she hugs him back. Then, they kiss. This time she is very willing and they fuck while the husband is sleeping soundly in the other room. Unlike before when the wife is just semi-naked, this time she goes all naked for the friend. He ejaculates on her breasts. The wife puts her arms around her husband's friend as they top their sex off with a loving, passionate kiss, a scenario that is very much different from when they started.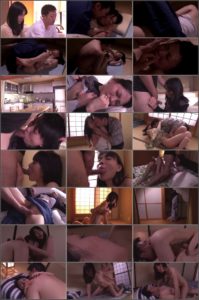 More info for RBD-448
Watch Online: Watch8x.org
Watch Online: Javfor.me