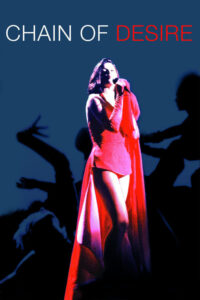 ---
A series of unrelated amorous lovers are connected by a chain of desire.

Max Ophuls gave us one of the great films of all time, La Ronde. A stylish seduction about the art and enterprise of seduction with an extraordinary cast. Filmmaker Temistocles Lopez marvelously modernizes what was a cautionay tale about syphilis, setting it in a sexually charged Manhattan at the height of the AIDS epidemic. Again the storytelling is that of the portmanteau or multi-plot, multi-character as one character from each sexual coupling, couples with another, hence the chain of the title or "round" as in the Ophuls film taking us back to the first character. Though low budget and less elegant than the original, Lopez's actors rise magnificently to the occasion. To list these names, hardly an "A" list in the conventional sense, but there is nothing conventional about this movie, is to provide us not with a roster of famous movie stars, but a lineup of highly accomplished and versatile actors from a diverse film background in several countries. Linda Fiorentino, Malcolm McDowell (UK), Assumpta Serna (Spain), Seymour Cassel (the Bronx), Grace Zabriskie (New Orleans), Patrick Bauchau (France), Elias Kotais (Canada), Tom Guinee, Dewey Weber, etc. provide a rich, sexy and fascinating workforce to weave us irrevocably into this spellbinding tale of modern urban seductions.
|
Cheating Notes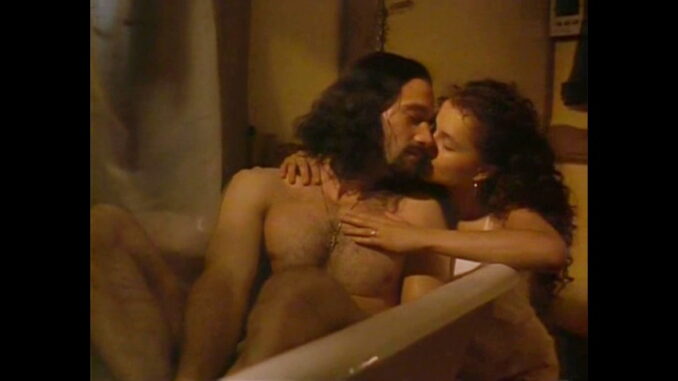 The chain starts with Alma D'Angeli (Linda Fiorentino) fucking Jesus, a wall painter at a church. She's single, but an ex-lover is calling her persistently on the phone.
After fucking Alma, Jesus comes home and fucks his wife Isa (Angel Aviles). Isa works as a maid in a rich household and we see her getting sexually molested by her master, Jerald. It's just her leg that he molests, mostly. He caresses it and then shoves her foot on his crotch repeatedly, getting pleasure from the pain it causes. She isn't really willing and leaves the household because of it.
We then see Jerald having a sadomasochistic session with Linda Bailey (Grace Zabriskie), wife of Hubert Bailey (Malcolm McDowell). She is wearing a french maid outfit and hitting him with a stick but that's it, they really don't fuck. She comes home later to her husband and admits to him that she's having an affair with Jerald, who is a common friend of theirs. He takes it in stride, telling her it's ok as long as no one will know about it. But the real reason is because he's gay and sees a young male whore later.
Skipping some links in the chain, we go to Cleo (Assumpta Serna), wife of a rich, accomplished old artist. Her husband brings Diana (Holly Marie Combs), a young chick, to his studio for the purpose of fucking her but she rejects him at the last minute. The next day, Cleo comes to the art studio and finds a buff painter doing work on the walls. He tells her that her husband went out. The phone rings and it's Diana on the other line, leaving a message to Cleo's husband that she left her purse there. Cleo gets mad and grabs the painter's crotch from behind. They start petting while standing up and then they continue petting on the floor (she's still clothed). Just as Cleo is about to insert the painter's dick on her pussy, her husband arrives and a fight ensues between the two men.
Watch Full Movie Online
---
---
---