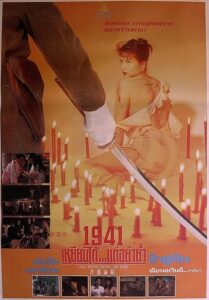 ---
A family suffers at the hands of the Japanese during the occupation of Hong Kong.
|
Cheating Notes
"A guy is fucking my wife!" - husband
The head of the family comes home and finds his wife being fucked by a Japanese officer whom he is serving under as a Chinese collaborator (1:01:30). The main motivation of his wife is survival, I guess, during these hard times under the Japanese occupation of Hong Kong in the 1940s. But it doesn't hurt that the Japanese officer is young and handsome. As opposed to her daughter and other women who were raped by the Japanese soldiers, she willingly fucks the officer and even moans loud as she humps hard on top of him, despite knowing that her husband, whom the officer just shooed away from the bedroom, has discovered and seen them.
Watch Full Movie Online
---
---
---