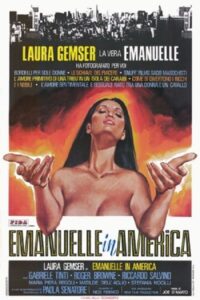 ---
Hedonistic photojournalist Emanuelle goes undercover to expose the seedy lives of rich and powerful sex cultists and snuff film peddlers in America and Europe.

An American journalist travels throughout the world in search of a good story by joining a modern-day harem and traveling to Venice to see what really goes on at diplomatic parties. While trying to expose a corrupt government official, Emanuelle stumbles upon a group that uses kidnapped girls to make and sell snuff films.
|
Cheating Notes
Emanuelle (Laura Gemser) has a boyfriend and she is living with him (he's the one at 7:40), but she has sex with several men in the movie.
She gives the boyfriend of a model she's working with a blowjob in the early part of the movie when he kidnaps her and threatens to kill her because of his principles regarding.. umm, whatever.
She fucks several men on several instances while she's undercover and attending sex parties of rich sex cultists.
She has a threesome with a married couple who's having some marital problems (34:17). She tells them that she has an open relationship with her boyfriend, but I didn't really hear it from his own mouth, and there's really no indication that he is aware of any of her trysts.
Watch Full Movie Online
---
---
---